The Premier
Handball League
(PHL), exclusively licensed by Bluesport Entertainment Pvt Ltd under the trusteeship of the Handball Federation of India (HFI), announced Garvit Gujarat as the first franchise team for the eagerly anticipated inaugural edition of the league.
The Gujarat-based team will be one of the league's six franchise teams competing in the inaugural season. Due to the fact that
handball
is a well-liked and frequently played sport in the region, Gujarat has the potential to become the next major sports hub, according to the team's owner, Garvit Sports Private Limited (GSPL). In Gujarat, it wants to elevate handball to a major sport. Roopkumar Naidu, a prominent sports executive and the nation's top former handball player, is a co-owner of the GSPL.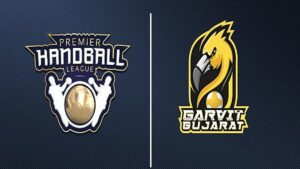 Naidu, the former chief of SAI, also added that he has many ulterior plans that he would like to implement in the state. "Players from Gujarat will be surely be benefiting from this league but I also have some plans for Nagpur. In the first stage, I want to open a state-level handball academy in Nagpur and want to convert it to a national level one. I want to give something back toe the sport that made me what I am and this will be a small contribution from my side for revival of the sport in the region," said Naidu.
View this post on Instagram
"As an administrator and while I was posted in Gandhinagar from 2014-2018, I did get the opportunity to develop the infrastructure and promote the game across the state and now I'm confident that with a representation of
Premier Handball League
, Garvit Gujarat will be able to take the sport to a next level and make it commercially viable and provide national and global exposure to the game as well", said Naidu.
View this post on Instagram
Player Roster
Sunil Ghanghas (Goal Keeper)
Harender Singh (Right Back)
Mohammed Suja Ur Rehaman (Left Wing)
Anil Kumar (Goal Keeper)
Suriyamoorthy K (Centre Back)
Aditya Rana (Left Back)
Sahil Malik (Right Back)
Thoufeeq V M (Pivot)
Mohit Manhas ( Left Wing)
Squad Officials
Kamal Singh ( Media Manager)
M C Venugopal ( Team Manager)
Praveen Kumar Singh ( Coach)
Sashimohan Dhumal ( Head Coach)