India vs Pakistan World Cup: The most awaited clash of ICC Cricket World cup 2019, in which two big rivalries of cricket, Pakistan and India will be Ready to face each other in the 22nd match of the world cup 2019. This mega war of cricket will take place at Old Trafford, Manchester on June 16.
The match between India and Pakistan has always brought an abundance of sensation for the fanatics of cricket. The match has always proved as the make and break stage for so many youngsters. No matter how much-experienced players both teams have, the enormity of this match would always make them bewildered all through this war of sensation. However, the match between India and Pakistan have always been the most watched cricketing contest ever.
Indian Cricket Team have an advantage over Pakistan as Pakistan has never managed to defeat India in the world cup matches causing a huge psychological pressure for team Pakistan.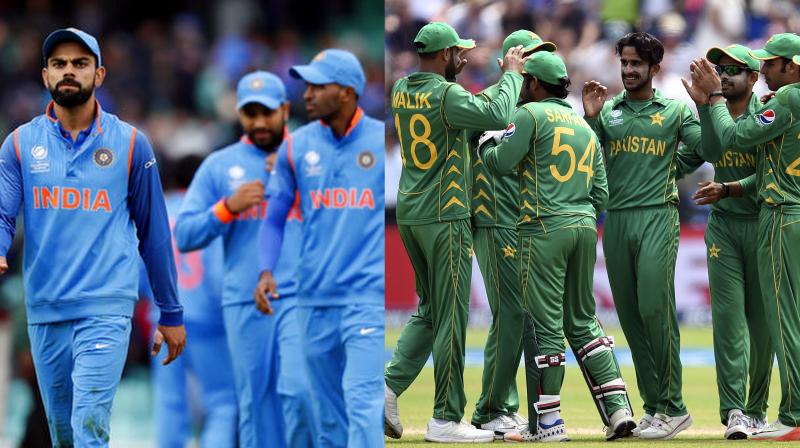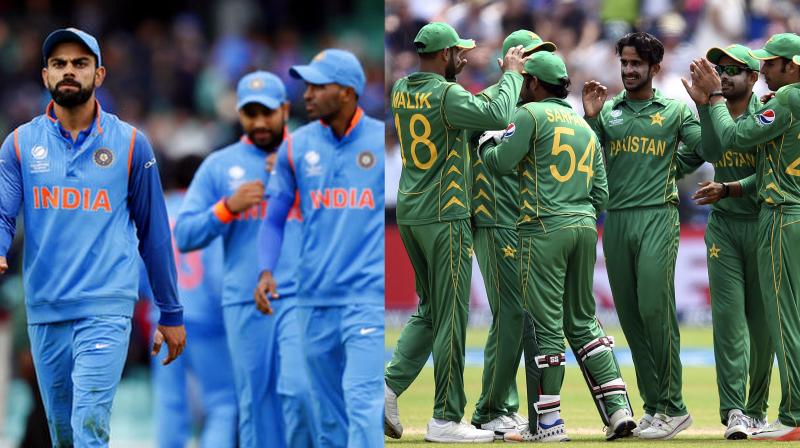 The timing of the Match?
09:30 AM GMT / 10:30 AM LOCAL
India vs Pakistan world cup match holds some special place in the hearts of every cricket fan. Both teams will be facing each other for the 7th time in the world cup On June 16. Currently, both Pakistan and India are undoubtedly favorite for the coming world cup. since the inaugural world cup 1975, both teams have played all the world cups and have been tasted the victories. however, India has won the world cup two times as they did It for the very first time in 1983 when Kapil Dev led the Indian Team. Once again in world cup 2011, India repeated the history and this time the captain was MS Dhoni who helped his team to emerged the victory with his marvelous knock in the final.
Two years ago, Pakistan met India in the final of champions trophy which ended up with the historic victory of Pakistan. Although India had been crumbled Pakistan in the group match of Champions trophy 2017, however, this defeat had pushed Pakistan almost at the back foot but what Pakistan had done after that, have always labeled them as the most unpredictable Team and they did prove it later by defeating the Indian Team in final which left everyone amazed as no one was expecting Pakistan to demolish the team India after getting crumbled badly in the group match. After a period of almost 1 year, both Teams had once again faced each other in the ASIA cup 2018 which was held at UAE. unfortunately, Pakistan could not manage to continue their winning streak and expectedly surrendered due to which the result went into the Indian's favor.
From the past 5 years, the rivalry between both countries has grown so much and owing to which both the Teams are unable to play bilateral series against each other which is intensively being missed in this modern era of cricket.
From the past 2 years, the Indian team is in great touch, particularly their consistent performance in the overseas has been exceptional. It has always been a challenging task to beat Australia on their home Ground but this Indian Team did it brilliantly as they splintered ausies in all three series which is a clear indication of how much geared up they are. Apart from the team performance, skipper Kohli has been doing his best since long ago, he is the man who has rejuvenated the Team India after the departure of several senior giants like Tendulkar, Sehwag, and Yuvraj Singh, etc. since the Champions trophy 2017 they have acquired some new faces in the Team. Hence these newcomers have formidable the Team India. There was a time when the Indian team was lacking a strong bowling unit, however, space has been filled as they are now own the best bowling unit they once were missing. Alongside Bumrah, two leggies Kuldeep And Chahal have proved their credibility in a very short span of time causing their progress in the ICC ranking.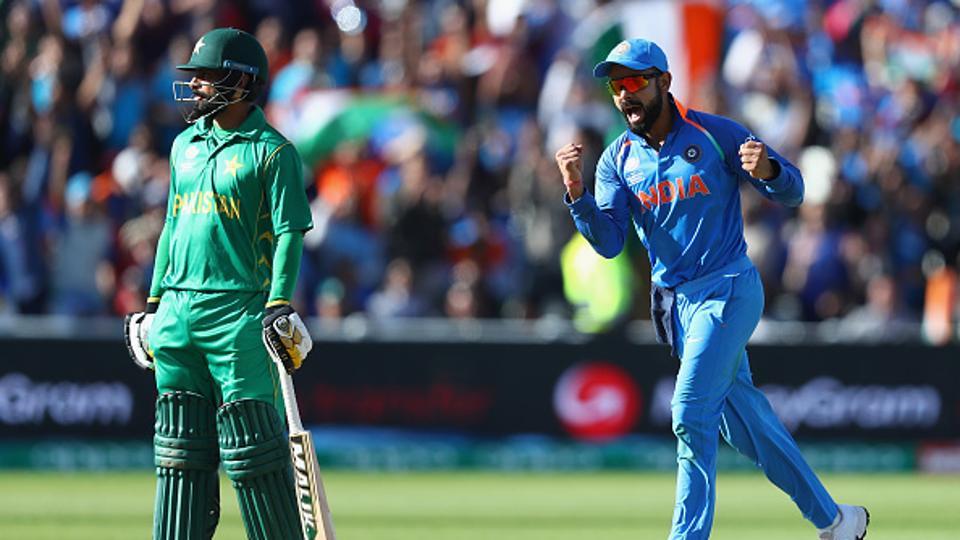 Whereas Pakistan has always come with the different approach when it comes to face India.as in the previous champions trophy which was held in 2017, Pakistan was about to lose the event after a huge margin defeat against India, but as usual they made a strong comeback as they have always been considered as the most unpredictable Team, By defeating the top favorite Teams they progressed to the final where once again they met India but how they took the match away is all history which will definitely give Pakistan a ray of hope to take on India again on the same country on June 16. However, Pakistan has a good past track record in English soil as their first ever world cup victory came from England in 1992. Later they played the final of ICC World Cup 1999 in England, Pakistan did not put a full stop here and have been persistently getting crucial victories, particularly the historic victory in ICC T20 World Cup 2009, which was held in England as well.
Since the champions trophy 2017, Pakistan has not been really up to the Mark and owing to this uncertainty they have lost a couple of crucial series in the past 2 years. The serious setback, Pakistan have been facing since long ago is the absence of hard hitter batsman in the lower order. However, they have acquired a couple of promising top-order batsman who has formidable the batting unit. Pakistan has been unstoppable when it comes to the bowling unit. the ruthless pace attack has won crucial matches alone due to which they always used to rely on their bowling unit the most.
Currently, Pakistan will be relying on the players including Babar Azam and imam ul Haq alongside explosive opener Fakhar Zaman as they have scored with the average of 50+ in ODI'S. Fakhar Zaman has set a record of reaching on 1000 in just 23 innings which are the least number of innings one has played to score 1000.apart from having youngsters in the Team the experienced giants Shoaib Malik and Hafeez will also be the part of the green force. In this crucial match, Pakistan needs to be very cautious as they have been defeated by India recently in the Asia cup due to which Pakistan will be psychologically under pressure and that is what Pakistan has to prepared for.
India vs Pakistan

 Results of previous world cup's encounters:-
| | | | |
| --- | --- | --- | --- |
| India | Pakistan | Margin | World cup |
| Won | Lost | By 43 runs | 1992 |
| Won | Lost | By 39 runs | 1996 |
| Won | Lost | By 47 runs | 1999 |
| Won | Lost | By 6 wickets | 2003 |
| Won | Lost | By 29 runs | 2011 |
| Won | Lost | By 76 runs | 2015 |
India vs Pakistan Squad for World Cup 2019:
Pakistan Squad
1. SARFARAZ AHMED (CAPTAIN)
2. FAKHAR ZAMAN
3. IMAM UL HAQ
4. ABID ALI
5. BABAR AZAM
6. MUHAMMAD HAFEEZ
7. SHOAIB MALIK
8. HARIS SOHAIL
9. IMAD WASIM
10. SHADAB KHAN
11. FAHEEM ASHRAF
12. JUNAID KHAN
13. SHAHEEN SHAH AFRIDI
14. MUHAMMAD HASNAIN
15. HASSAN ALI
India Squad
1. VIRAT KOHLI (Captain)
2. ROHIT SHARMA
3. SHIKHAR DHAWAN
4. KL RAHUL
5. VIJAY SHANKAR
6. DINESH KARTHIK
7. MS DHONI
8. KEDAR JADHAV
9. HARDIK PANDYA
10. JASPRIT BUMRAH
11. BHUVNESHWAR KUMAR
12. MUHAMMAD SHAMMI
13. KULDEEP YADAV
14. RAVINDER JADEJA
15. YUZVINDER CHAHAL
If you look at the previous encounters in the world cups, you will definitely find India a clear favorite to grasp this contest. At the same time, it would be too early to predict the winner as the results of matches of these two rivalries have gone unexpectedly several time. Pakistan still has a very crucial series against England which will definitely indicate later, whether they are on the track of winning position or need to revamp prior to the world cup. However, it would be a test of both the skipper's nerves as they will be leading their Teams first time in the world cup and that is too against rivals.let's see who create the history and who repeat the history.
Also Check:-