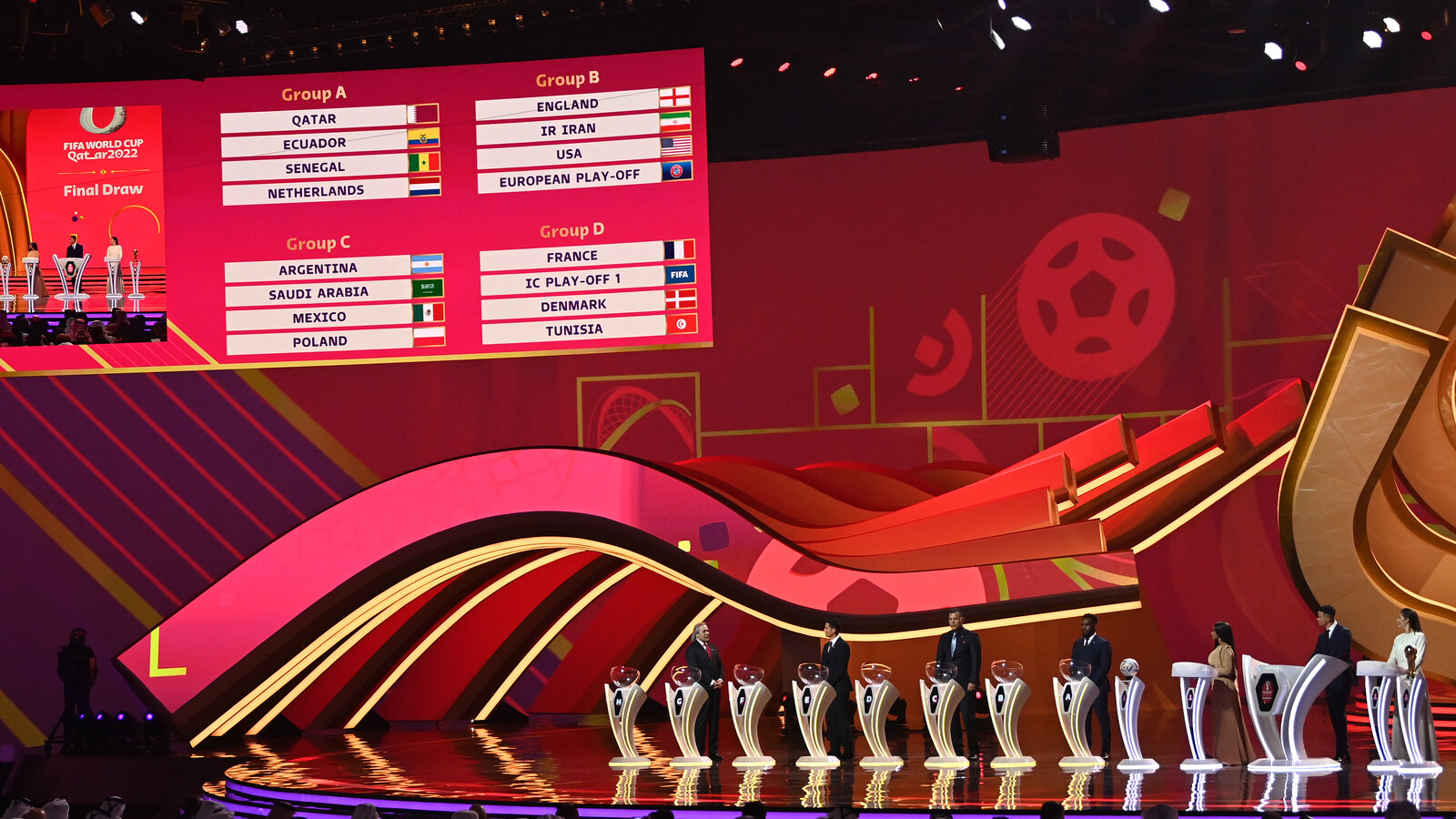 FIFA World Cup 2022 is just months away and the group has been already alloted.
On Friday, a ceremony in World Cup host country Qatar took place to announce the teams in each section of the bracket.
The 32 teams were placed in eight different groups of four teams. The top two teams from each group will move onto the Round of 16, then the quarterfinals, semifinals, and eventually the final match. There will be a total of 64 matches played.
The #FIFAWorldCup groups are set 🤩

We can't wait! 🏆#FinalDraw pic.twitter.com/uaDfdIvbaZ

— FIFA World Cup (@FIFAWorldCup) April 1, 2022
Complete World Cup 2022 match schedule
World Cup Group A table & fixtures
| | | | | | | | | |
| --- | --- | --- | --- | --- | --- | --- | --- | --- |
| Team | PTS | GP | W | L | D | GF | GA | GD |
| A1: Qatar | 0 | 0 | 0 | 0 | 0 | 0 | 0 | 0 |
| A2: Ecuador | 0 | 0 | 0 | 0 | 0 | 0 | 0 | 0 |
| A3: Senegal | 0 | 0 | 0 | 0 | 0 | 0 | 0 | 0 |
| A4: Netherlands | 0 | 0 | 0 | 0 | 0 | 0 | 0 | 0 |
Group A match schedule
| | | | |
| --- | --- | --- | --- |
| Date | Match | Time (ET) | Stadium |
| Mon, Nov. 21 | Senegal vs. Netherlands | 5 a.m. | Al Thumama |
| Mon, Nov. 21 | Qatar vs. Ecuador | 11 a.m. | Al Bayt |
| Fri, Nov. 25 | Qatar vs. Senegal | 8 a.m. | Al Thumama |
| Fri, Nov. 25 | Netherlands vs. Ecuador | 11 a.m. | Khalifa Int'l |
| Tues, Nov. 29 | Netherlands vs. Qatar | 10 a.m. | Al Bayt |
| Tues, Nov. 29 | Ecuador vs. Senegal | 10 a.m. | Khalifa Int'l |
---
World Cup Group B table & fixtures
| | | | | | | | | |
| --- | --- | --- | --- | --- | --- | --- | --- | --- |
| Team | PTS | GP | W | L | D | GF | GA | GD |
| B1: England | 0 | 0 | 0 | 0 | 0 | 0 | 0 | 0 |
| B2: Iran | 0 | 0 | 0 | 0 | 0 | 0 | 0 | 0 |
| B3: USA | 0 | 0 | 0 | 0 | 0 | 0 | 0 | 0 |
| B4: WAL/UKR/SCO* | 0 | 0 | 0 | 0 | 0 | 0 | 0 | 0 |
* = Winner of European playoff (Wales vs. Ukraine/Scotland)
Also Check: Top Football Players to miss World Cup 
Group B match schedule
| | | | |
| --- | --- | --- | --- |
| Date | Match | Time (ET) | Stadium |
| Mon, Nov. 21 | England vs. Iran | 8 a.m. | Khalifa Int'l |
| Mon, Nov. 21 | USA vs. WAL/UKR/SCO | 2 p.m. | Ahmad Bin Ali |
| Fri, Nov. 25 | WAL/UKR/SCO vs. Iran | 5 a.m. | Ahmad Bin Ali |
| Fri, Nov. 25 | England vs. USA | 2 p.m. | Al Bayt |
| Tues, Nov. 29 | WAL/UKR/SCO vs. England | 2 p.m. | Ahmad Bin Ali |
| Tues, Nov. 29 | Iran vs. USA | 2 p.m. | Al Thumama |
---
World Cup Group C table & fixtures
| | | | | | | | | |
| --- | --- | --- | --- | --- | --- | --- | --- | --- |
| Team | PTS | GP | W | L | D | GF | GA | GD |
| C1: Argentina | 0 | 0 | 0 | 0 | 0 | 0 | 0 | 0 |
| C2: Saudi Arabia | 0 | 0 | 0 | 0 | 0 | 0 | 0 | 0 |
| C3: Mexico | 0 | 0 | 0 | 0 | 0 | 0 | 0 | 0 |
| C4: Poland | 0 | 0 | 0 | 0 | 0 | 0 | 0 | 0 |
Group C match schedule
| | | | |
| --- | --- | --- | --- |
| Date | Match | Time (ET) | Stadium |
| Tues, Nov. 22 | Argentina vs. S. Arabia | 5 a.m. | Lusail |
| Tues, Nov. 22 | Mexico vs. Poland | 11 a.m. | Stadium 974 |
| Sat, Nov. 26 | Poland vs. S. Arabia | 8 a.m. | Education City |
| Sat, Nov. 26 | Argentina vs. Mexico | 2 p.m. | Lusail |
| Wed, Nov. 30 | Poland vs. Argentina | 2 p.m. | Stadium 974 |
| Wed, Nov. 30 | S. Arabia vs. Mexico | 2 p.m. | Lusail |
---
World Cup Group D table & fixtures
| | | | | | | | | |
| --- | --- | --- | --- | --- | --- | --- | --- | --- |
| Team | PTS | GP | W | L | D | GF | GA | GD |
| D1: France | 0 | 0 | 0 | 0 | 0 | 0 | 0 | 0 |
| D2: AUS/UAE/PER* | 0 | 0 | 0 | 0 | 0 | 0 | 0 | 0 |
| D3: Denmark | 0 | 0 | 0 | 0 | 0 | 0 | 0 | 0 |
| D4: Tunisia | 0 | 0 | 0 | 0 | 0 | 0 | 0 | 0 |
* = Winner of Intercontinental Playoff (Peru vs. Australia/United Arab Emirates)
Group D match schedule
| | | | |
| --- | --- | --- | --- |
| Date | Match | Time (ET) | Stadium |
| Tue, Nov. 22 | Denmark vs. Tunisia | 8 a.m. | Education City |
| Tue, Nov. 22 | France vs. AUS/UAE/PER | 2 p.m. | Al Janoub |
| Sat, Nov. 26 | Tunisia vs. AUS/UAE/PER | 5 a.m. | Al Janoub |
| Sat, Nov. 26 | France vs. Denmark | 11 a.m. | Stadium 974 |
| Wed, Nov. 30 | Tunisia vs. France | 10 a.m. | Education City |
| Wed, Nov. 30 | AUS/UAE/PER vs. Denmark | 10 a.m. | Al Janoub |
---
World Cup Group E table & fixtures
| | | | | | | | | |
| --- | --- | --- | --- | --- | --- | --- | --- | --- |
| Team | PTS | GP | W | L | D | GF | GA | GD |
| E1: Spain | 0 | 0 | 0 | 0 | 0 | 0 | 0 | 0 |
| E2: CRC/NZ* | 0 | 0 | 0 | 0 | 0 | 0 | 0 | 0 |
| E3: Germany | 0 | 0 | 0 | 0 | 0 | 0 | 0 | 0 |
| E4: Japan | 0 | 0 | 0 | 0 | 0 | 0 | 0 | 0 |
* = Winner of Intercontinental Playoff (Costa Rica vs. New Zealand)
Group E match schedule
| | | | |
| --- | --- | --- | --- |
| Date | Match | Time (ET) | Stadium |
| Wed, Nov. 23 | Germany vs. Japan | 8 a.m. | Khalifa Int'l |
| Wed, Nov. 23 | Spain vs. CRC/NZ | 11 a.m. | Al Thumama |
| Sun, Nov. 27 | Japan vs. CRC/NZ | 5 a.m. | Ahmad Bin Ali |
| Sun, Nov. 27 | Spain vs. Germany | 2 p.m. | Al Bayt |
| Thurs, Dec. 1 | Japan vs. Spain | 2 p.m. | Khalifa Int'l |
| Thurs, Dec. 1 | CRC/NZ vs. Germany | 2 p.m. | Al Bayt |
---
World Cup Group F table & fixtures
| | | | | | | | | |
| --- | --- | --- | --- | --- | --- | --- | --- | --- |
| Team | PTS | GP | W | L | D | GF | GA | GD |
| F1: Belgium | 0 | 0 | 0 | 0 | 0 | 0 | 0 | 0 |
| F2: Canada | 0 | 0 | 0 | 0 | 0 | 0 | 0 | 0 |
| F3: Morocco | 0 | 0 | 0 | 0 | 0 | 0 | 0 | 0 |
| F4: Croatia | 0 | 0 | 0 | 0 | 0 | 0 | 0 | 0 |
Group F match schedule
| | | | |
| --- | --- | --- | --- |
| Date | Match | Time (ET) | Stadium |
| Wed, Nov. 23 | Morocco vs. Croatia | 5 a.m. | Al Bayt |
| Wed, Nov. 23 | Belgium vs. Canada | 2 p.m. | Ahmad Bin Ali |
| Sun, Nov. 27 | Belgium vs. Morocco | 8 a.m. | Al Thumama |
| Sun, Nov. 27 | Croatia vs. Canada | 11 a.m. | Khalifa Int'l |
| Thurs, Dec. 1 | Croatia vs. Belgium | 10 a.m. | Ahmad Bin Ali |
| Thurs, Dec. 1 | Canada vs. Morocco | 10 a.m. | Al Thumama |
---
World Cup Group G table & fixtures
| | | | | | | | | |
| --- | --- | --- | --- | --- | --- | --- | --- | --- |
| Team | PTS | GP | W | L | D | GF | GA | GD |
| G1: Brazil | 0 | 0 | 0 | 0 | 0 | 0 | 0 | 0 |
| G2: Serbia | 0 | 0 | 0 | 0 | 0 | 0 | 0 | 0 |
| G3: Switzerland | 0 | 0 | 0 | 0 | 0 | 0 | 0 | 0 |
| G4: Cameroon | 0 | 0 | 0 | 0 | 0 | 0 | 0 | 0 |
Group G match schedule
| | | | |
| --- | --- | --- | --- |
| Date | Match | Time (ET) | Stadium |
| Thurs, Nov. 24 | Switzerland vs. Cameroon | 5 a.m. | Al Janoub |
| Thurs, Nov. 24 | Brazil vs. Serbia | 2 p.m. | Lusail |
| Mon, Nov. 28 | Cameroon vs. Serbia | 5 a.m. | Al Janoub |
| Mon, Nov. 28 | Brazil vs. Switzerland | 11 a.m. | Stadium 974 |
| Fri, Dec. 2 | Cameroon vs. Brazil | 2 p.m. | Lusail |
| Fri, Dec. 2 | Serbia vs. Switzerland | 2 p.m. | Stadium 974 |
---
World Cup Group H table & fixtures
| | | | | | | | | |
| --- | --- | --- | --- | --- | --- | --- | --- | --- |
| Team | PTS | GP | W | L | D | GF | GA | GD |
| H1: Portugal | 0 | 0 | 0 | 0 | 0 | 0 | 0 | 0 |
| H2: Ghana | 0 | 0 | 0 | 0 | 0 | 0 | 0 | 0 |
| H3: Uruguay | 0 | 0 | 0 | 0 | 0 | 0 | 0 | 0 |
| H4: South Korea | 0 | 0 | 0 | 0 | 0 | 0 | 0 | 0 |
Group H match schedule
| | | | |
| --- | --- | --- | --- |
| Date | Match | Time (ET) | Stadium |
| Thurs, Nov. 24 | Uruguay vs. South Korea | 8 a.m. | Education City |
| Thurs, Nov. 24 | Portugal vs. Ghana | 11 a.m. | Stadium 974 |
| Mon, Nov. 28 | South Korea vs. Ghana | 8 a.m. | Education City |
| Mon, Nov. 28 | Portugal vs. Uruguay | 2 p.m. | Lusail |
| Fri, Dec. 2 | South Korea vs. Portugal | 10 a.m. | Education City |
| Fri, Dec. 2 | Ghana vs. Uruguay | 10 a.m. | Al Janoub |
World Cup Round of 16
| | | | |
| --- | --- | --- | --- |
| Date | Match | Time (ET) | Stadium |
| Sat, Dec. 3 | 1A vs. 2B | 10 a.m. | Khalifa Int'l |
| Sat, Dec. 3 | 1C vs. 2D | 2 p.m. | Ahmad Bin Ali |
| Sun, Dec. 4 | 1D vs. 2C | 10 a.m. | Al Thumama |
| Sun, Dec. 4 | 1B vs. 2A | 2 p.m. | Al Bayt |
| Mon, Dec. 5 | 1E vs. 2F | 10 a.m. | Al Janoub |
| Mon, Dec. 5 | 1G vs. 2H | 2 p.m. | Stadium 974 |
| Tues, Dec. 6 | 1F vs. 2E | 10 a.m. | Education City |
| Tues, Dec. 6 | 1H vs. 2G | 2 p.m. | Lusail |
World Cup Quarterfinals
| | | | |
| --- | --- | --- | --- |
| Date | Match | Time (ET) | Stadium |
| Fri, Dec. 9 | QF1: 1E/2F vs. 1G/2H | 10 a.m. | Education City |
| Fri, Dec. 9 | QF2: 1A/2B vs. 1C/2D | 2 p.m. | Lusail |
| Sat, Dec. 10 | QF3: 1F/2E vs. 1H/2G | 10 a.m. | Al Thumama |
| Sat, Dec. 10 | QF4: 1B/2A vs. 1D/2C | 2 p.m. | Al Bayt |
World Cup Semifinals
| | | | |
| --- | --- | --- | --- |
| Date | Match | Time (ET) | Stadium |
| Tues, Dec. 13 | QF2 vs. QF1 | 2 p.m. | Lusail |
| Wed, Dec. 14 | QF4 vs. QF3 | 2 p.m. | Al Bayt |
World Cup 3rd Place
| | | | |
| --- | --- | --- | --- |
| Date | Match | Time (ET) | Stadium |
| Sat, Dec. 17 | Semifinal losers | 10 a.m. | Khalifa Int'l |
World Cup Final
| | | | |
| --- | --- | --- | --- |
| Date | Match | Time (ET) | Stadium |
| Sun, Dec. 18 | Semifinal winners | 10 a.m. | Lusail |