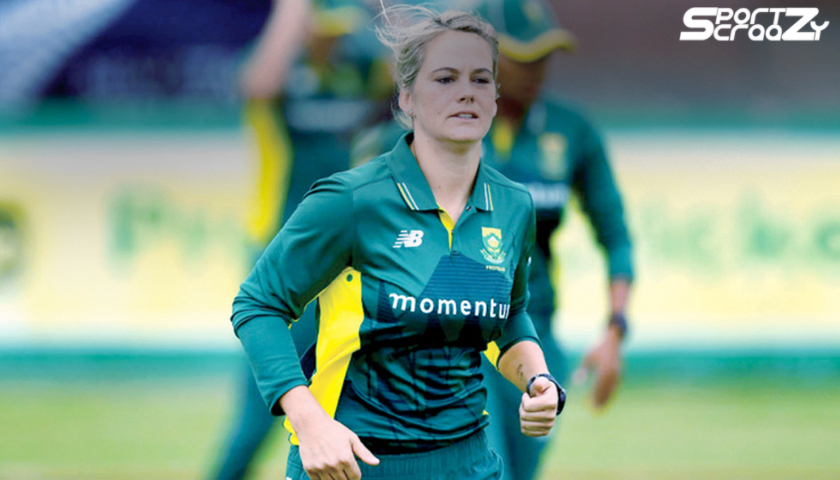 Dane Van Niekerk Biography :
Dane Van Niekerk is a South African cricketer who hails from Pretoria, South Africa. She is a handy all rounder who bowls leg spin and bats in middle order. She is 26 years old and has been  captaining the South African women's cricket team since 2016, after Mignon Du Preez stepped down from captaincy.
Early life
She was born on 14 May 1993 in Pretoria, South Africa. She was originally slated for fast bowling on tailor made fast and bouncy pitches of South Africa. But her father convinced her to try out  spin as there were not many spin bowler in South Africa. Her leg spin along with her brilliant batting technique has made her one of the finest players in South African cricket history.
She played domestic cricket for Highveld women and Northern Women. She and Marizanne Kapp were the first women cricketers to be included in Men's East Province cricket team.
Debut-
Test- 2014 vs India
ODIs- 2009 vs West Indies
T20s- 2009 vs West Indies
Career stats
Only Test-
Batting- 1 M/ 22 runs/ avg. 11/ SR 33.3
Bowling- 1M/ 1 wicket/ avg. 90.00
ODIs-
Batting- 99 M/ 2048 runs/ avg. 33.6/ SR 66.2
Bowling- 99 M/ 128 wickets/ avg. 19.3
T20s-
Batting- 76 M/ 1699 runs/ avg 29.8/ SR 95.1
Bowling- 76 M/ 58 wickets/ avg. 20.6
Professional career
In domestic cricket, she played for Northern Women and Highveld Lions. Following the consistent performances in domestic cricket and considering her exceptional talent, selectors decided to include her in the South African women cricket team for the 2009 Cricket world cup in Australia. At such a young age of 16, she impressed everyone when she claimed figures of 3/11 against Srilanka to help her team claim 7th spot.
It was just the start of her glittering career.In 2013, she became the first South African woman to claim an International hat-trick in a match against powerhouse West Indies. In the same match, she claimed a five wicket haul. Later next year against Pakistan, she became the first South African women to claim two five wicket hauls in ODIs.
Her career statistics reflect her contribution as a valuable asset to the team.
Her career has grown and grown since her debut. Her dreams came true when she became captain of South Africa in all three formats. She was one of the players to be awarded a central contract by Cricket South Africa in 2018.
She has been nominated twice for ICC Women Cricketer of the year award. In 2017, she was included in ICC ODI Team of the year.
In the inaugural Women's Big Bash league, she represented Melbourne Renegades and proved her worth with 267 runs and 9 wickets. In the 2018-19 Women's Big Bash league,she played for Sydney Sixers. She played for Surrey Stars in the Kia Super League in 2018.
Her career hit a peak in the 2017 Women World Cup where she was the highest wicket taker in tournament with 15 scalps including world record figures of four wickets without conceding a single run.
Playing role- Middle order batsman
Batting style- Right handed
Bowling- right arm leg breaks
Team's played for- Highveld women, Northern Women, Surrey Stars, Melbourne Renegades, South Africa women cricket team
Formats played- All formats
Public Life
She is married to her teammate Marizanne Kapp. They are long time friends. They became the first couple to bat together in an ICC tournament. They shared a 67-run stand against Sri Lanka in the 2018 Women's T20 World Cup. She is also a renowned hockey player. She also plays Softball in her spare time. She has done schooling from Centurion High school.
Full Name- Dane Van Niekerk
Nickname- NA
Age- 26 years old
Hometown-  Pretoria, South Africa
Zodiac sign- Aries
Nationality- South Africa
Date of birth-  14 May, 1993
School- Centurion High School
Estimated Net worth- About 1Million US Dollars