Coolest Facts of Sachin Tendulkar
Sachin Tendulkar, The greatest batsman of all time, God of Cricket, Little master, Record man, the boy who not only broke the window glasses but records too. Yes, there is hardly anything about Tendulkar that has gone unnoticed, but still, there is a lot of gun powder left in the Tendulkar carnival.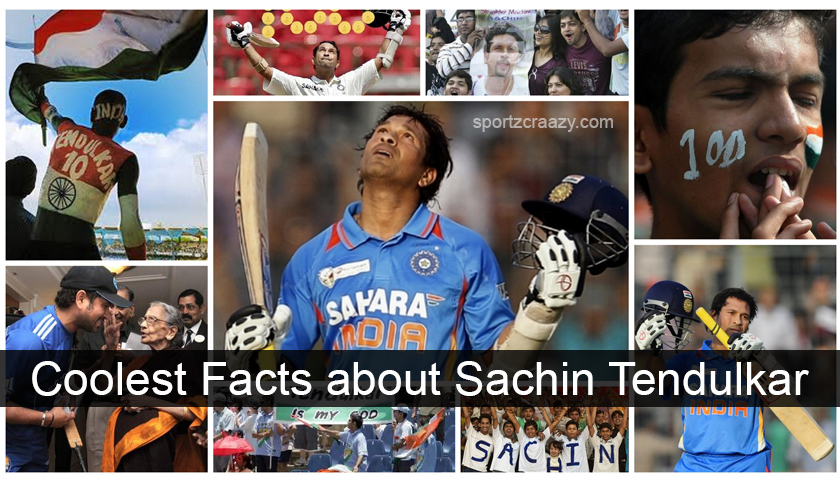 Some Coolest Facts of Sachin Tendulkar
Sachin Tendulkar first car was a Red Maruti 800 (SS80)
Sachin Tendulkar was the first batsman to given out by the third umpire. He was given out by the third umpire against South Africa in 1992.
Sachin Tendulkar is ambidextrous. He plays cricket with the right hand, but write with the left. That 'some chemical locha.
Sachin Tendulkar never neglected studies during his early playing days. He always carried textbook with him during Bombay Ranji team tours.
The first product Sachin endorsed was a band aid.
Sachin Tendulkar still walks in the sleep. The truth was revealed by his teammate Sourav Ganguly, he saw him walk in sleep on numerous occasions at the MRF pace academy.
Sachin Tendulkar calls Sourav Ganguly "Babu Moshai" and Ganguly calls him "Chota babu".
Sachin Tendulkar didn't have any contract for his bat before 1996 Cricket World Cup. In 1996, he signed the contract with MRF to put the logo on his bat.
Sachin Tendulkar was the first overseas player to play for Yorkshire.
During the school days, Sachin earned the reputation of a bully. He was always interested in picking fights. Whenever he was introduced to any new kid at school and academy, he uses to punch him straight away.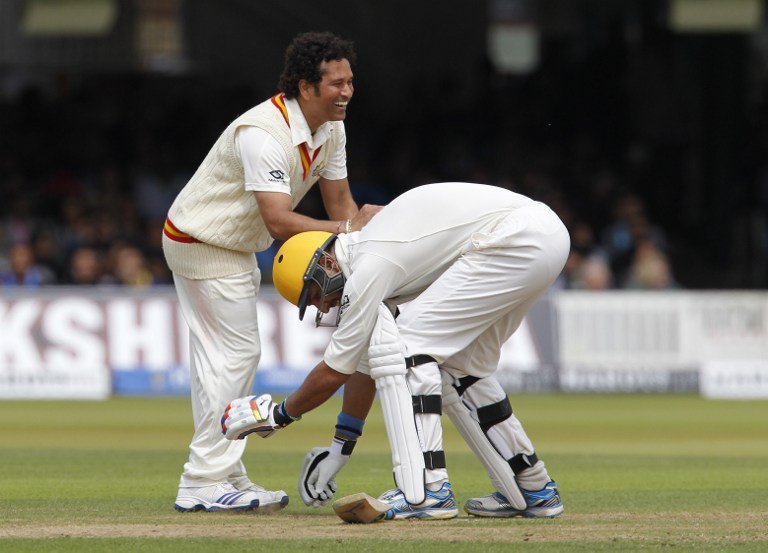 Sachin Tendulkar is the sportsperson to be awarded Bharat Ratna.
Sachin Tendulkar is 5 years younger to his wife Anjali. She is a pediatrician by profession.
Sachin Tendulkar is the only player to have scored 5 test centuries under 20 years of age. His centuries came against England, Australia, and South Africa.
Sachin Tendulkar holds the record for most stadium appearances. He made the appearance in 90 different grounds.
Sachin Tendulkar was once complained by English pacer Allan Mullally for using broader willow during play.
Sachin Tendulkar made his Ranji Trophy, Dileep trophy and Deodhar trophy debut with a century
The weight of the Sachin Tendulkar bat is 3.2 lbs.
During childhood, Sachin Tendulkar was fond of fishing tadpoles and fishes.
Sachin Tendlkar favorite food is Vada pao.
Sachin Tendulkar still holds the record for most centuries in a calendar. He scored 9 centuries in 1998.
Sachin Tendulkar was named after great musician Sachin Dev Burman by his father.
The nanny who looked after Sachin Tendulkar during childhood was universally called Sachachi bai.
Sachin Tendulkar runs an organization called Spreading Happiness. He has already provided lights to more than 16000 villages.
Sachin Tendulkar remained the richest cricketer for 15 years.
Sachin Tendulkar favorite rock band is Dire Straits.
Sachin Tendulkar holds the strange records of scoring tons of runs on festivals like Rakshabandhan, Holi and Diwali.
Sachin Tendulkar favorite cricket ground is Sydney cricket ground.
Sachin Tendulkar invented the paddle sweep shot in cricket.
Praveen Amre bought the first pair of shoes for Sachin Tendulkar on debut.
Also, Check:
Please follow and like us: