Bengaluru Bulls vs Patna Pirates: The much anticipated Pro Kabaddi League Season 7 is all set to begin today. The most successful team in the Pro KabaddiLeague, Patna Pirates will square-up against defending champions Bengaluru Bulls in the second match of Vivo Pro Kabaddi League Season 7 on Saturday.
After failing to qualify for the playoffs for the first time in Pro Kabaddi Season 6, Patna Pirates would be eking to bring back their magic on the mat in the upcoming season, while Bengaluru Bulls would want to start their campaign on a positive note in a bid to defend their title and repeat what Patna Pirates did back in Season 4.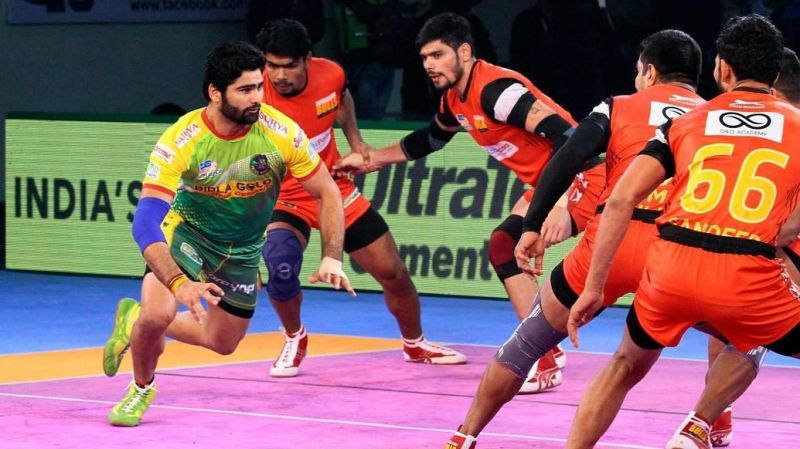 Patna Pirates:
In a bid to strengthen their raiding department, Patna Pirates have made some valuable additions in Korean Superstar Jang Kun Lee and Iranian player Mohammad Maghsoudlou. The Pirates also bought the services of Surender Nada, one of the best defenders in the League for as many as 77 lakhs.
Bengaluru Bulls:
Last season's top raider Pawan Kumar Sehrawat and Rohit Kumar will once again take the onus of the raiding department, while the responsibility of leading the team's defense will be shouldered by Mahender Singh, who was in supreme form last season.
HEAD TO HEAD
Patna Pirates: 10
Bengaluru Bulls: 3
Ties: 2
Bengaluru Bulls vs Patna Pirates Key Battles to Look Out For:
#1. Pardeep Narwal vs Vijay Singh
Vivo Pro Kabaddi's all-time top raider Pardeep Narwal will be up against right cover Vijay Kumar in the second match of Vivo Pro Kabaddi League. One of the best raiders in Pro Kabaddi League, Pardeep Narwal will play his seventh season, while Vijay Kumar, on the other hand, will hit the mat running in what will be his third season this year. Undoubtedly, it will be tough for Vijay to stop a man who has been ruling the mat since ages in Kabaddi, but if Vijay can keep him quiet, Bengaluru will have the upper hand.
#2. Jang Kun Lee vs Mahender Singh
One of Patna Pirates' biggest bids, Jang Kun Lee, will square up with one of the best defenders in the league, Mahender Singh on Saturday. Korean star Jang Kun Lee facing a strong and clever Mahender at the opposite end, and this will surely be an epic battle. While the Korean raider has played 90 matches in the leading, accumulating 411 raid points, Mahender Singh boasts of 120 tackle points in just two seasons.
#3. Pawan Kumar Sehrawat vs Surender Nada
Not just Bengaluru Bulls', the entire Pro Kabaddi Season 6 star of season, Pawan Kumar Sehrawat will play his fourth season with the Bulls. He will face a tough opponent in the form of Surender Nada who isn't an unknown phenomenon in Pro Kabaddi either. With 282 points in 24 matches, Pawan proved to be one of the biggest surprises of Season 6. Surender Nada sat out for most of last season, owing to an injury he suffered in the very first game. He would be looking to come back strongly and add to his tally of 222 tackle points in 71 games. This one would be a mouthwatering battle.
#4. Rohit Kumar vs Jawahar Dagar
A prominent member of Bengaluru Bulls, Rohit Kumar will once again lead the side in a bid to reclaim the title in the upcoming season. The onus to stop the raiding star from acquiring points will fall on Jawahar Dagar when the two square up against each other on Saturday.
Rohit Kumar took part in as many as four seasons of Pro Kabaddi League, while Jawahar Dagar has been part of three seasons so far. Bengaluru Bulls skipper has accumulated 576 raid points, while Patna Pirates defender has 51 tackles to his name. Though Rohit seems to be the favorite here, if Jawahar can get things right on the day, Patna Pirates might be smiling at the end of it all.