Match-6: Fore Titans vs Delhi Titans
Match-6 Result: Delhi Titans won by 8 wickets
| | |
| --- | --- |
| Player of the Match | Sunny Verma |
| Series | 10x Club Cricket Championship |
| Match 3 | SB Youth Cricket Club vs CricFine Cricket Academy  |
| Date & Time | 21-5-2022, 12:30 pm |
| Venue | PSR Sports Club, Delhi |
| Best Batsman | Sabhyansh Pachauri (Fore Titans) |
| Best Bowler | Sunny Verma (Delhi Titans) |
| Fore Titans | Gaurav Patil ©(WK), Gopal Waghmare, Aditya Karjatkar, Sidhhath Roman, Saurabh Bhagat, Rithvik Jawale, Daksh Gulia, Nitish Rana, Rajesh Ravish, Rathod Nikhil, Sharma Shivam, Kumar Aditya, Kumar Sabhyansh |
| Delhi Titans | Rahul Yadav ©, Karan Chaudhari, Rahul Rajput, Yusuf Salmani, Mukesh Mishra, Azad Khan, Pramank Gaur, Gaurav Prakash, Sumit Tyagi, Sunny Verma, Kunal Gautam, Gaurav Sharma, Krishan Saini |
Match-6, PSR Stadium, Delhi, May 21, 2022
Fore Titans 
79/9 (10.0 overs)
Delhi Titans
82/2 (5.5 overs)
Fore Titans vs Delhi Titans Match Summary:
Match 6th recently concluded between Fore Titans vs Delhi Titans, proved a disaster for the former side again twice in the row on the same day as they suffered defeat against Delhi Titians by 8 wickets.
Taking more about the match, Fore Titans opted to bat first and scored 79 runs with the loss of nine wickets with Sabhyansh Pachauri top-scored for the side with 39 runs.
WATCH LIVE STREAMING
Credit should be given to brilliant bowling from Kunal Gautam and Sunny Verma who clinched 2 wickets each.
Kunal had an impressive economy of 5.00 whereas Sunny had an even better economy of 4.00.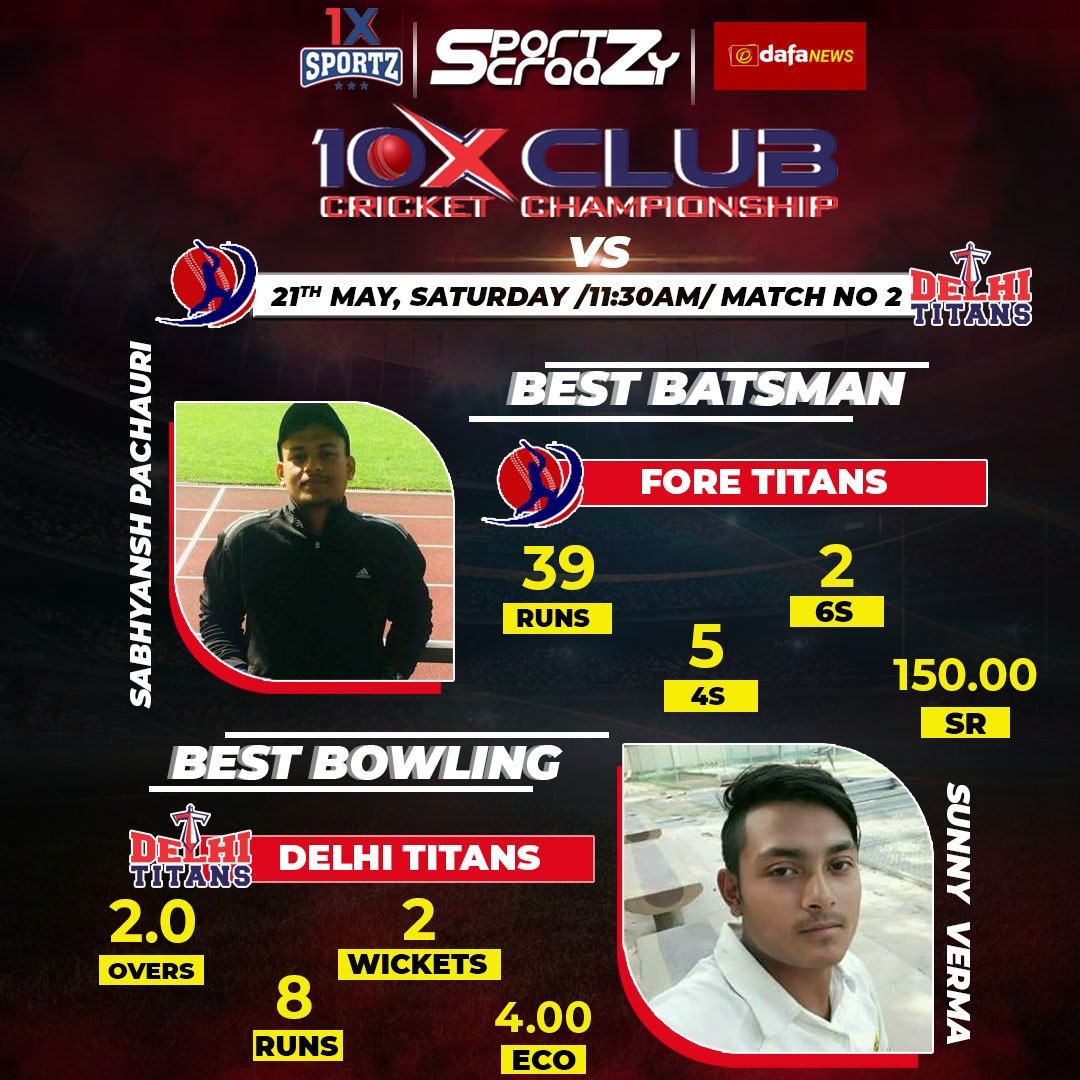 Taking about the chase, Delhi Titans chased down the target in 5.5 overs with the loss of two wickets due to brilliant individual batting performances from Sumit Tyagi and Sunny Verma who scored 31 and 36 runs respectively.
Sumit had an impressive strike rate of 206.57 and Shubham outclassed him with an astounding strike rate of 257.14 where he hit three brilliant sixes.
Fore Titians need to regroup themselves quickly ahead of their next match as the tournament like "10x Club Cricket Championship" is fast-paced and doesn't give you proper time to settle.