Stephanie McMahon Levesque, popularly known as a World Wrestling Entertainment Chief Brand Officer, is a female American businesswoman and professional wrestler for both Raw and Smackdown brands. Stephanie Mc Mahon is the daughter of WWE Chairman Vince Mc Mahon and wife of one of the all-time greats Triple H. She grew up in the nature of wrestling hence developed her interest in wrestling from a very young age.
EARLY LIFE

Stephanie Mc Mahon was born on September 24, 1976, in Hartford, Connecticut. She persuaded her academics from  Greenwich High School and later appeared in World Wrestling Federation (WWF) merchandise catalogs, modeling T-shirts and hats at a very young age of 13. In 1998, she completed her degree in Communications from Boston University.
PERSONAL LIFE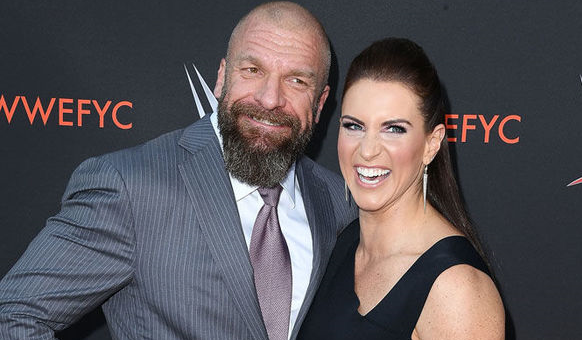 Stephanie Mc Mahon is the daughter of WWE Chairman Vince Mc Mahon and Linda Mc Mahon. She has a brother named Shane Mc Mahon. She tied a knot with Paul 'Triple H' Levesque on October 25, 2003, in a Roman Catholic ceremony at St. Teresa of Avila Church in Sleepy Hollow, New York. They together have three daughters named Aurora Rose Levesque, Murphy Claire Levesque and Vaughn Evelyn Levesque. Stephanie and her family are of Irish-American descent.
PROFESSIONAL LIFE
Stephanie Mc Mahon started her professional wrestling career in 1999 when she made her debut with The Undertaker. After becoming the active part of WWE, she got involved an on-screen relationship with wrestler Test. Stephanie started her storyline with Triple H of being married in a drive-through ceremony.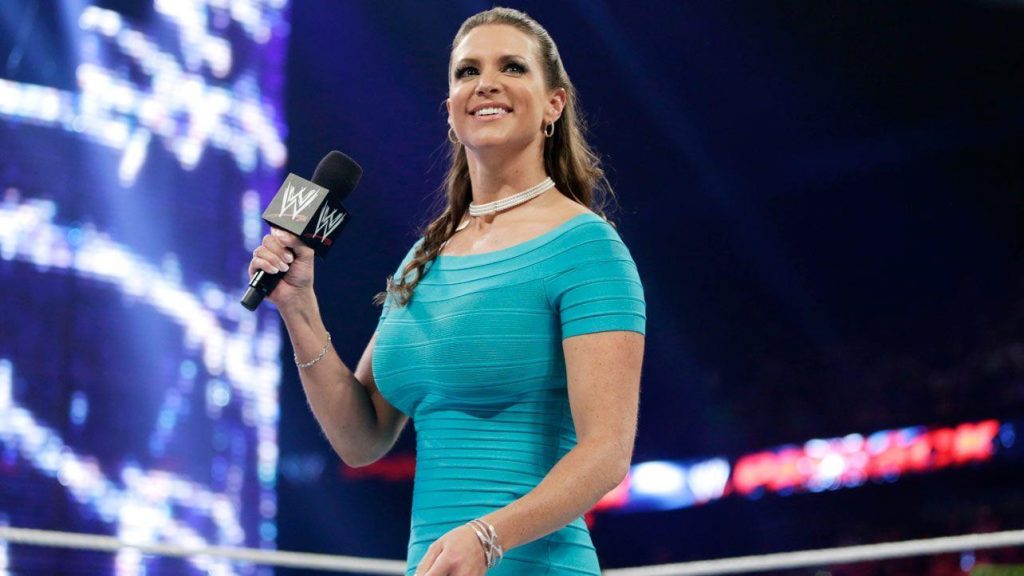 In 2000, a love-triangle storyline started featuring McMahon, Triple H and Kurt Angle. The storyline continued till Triple H defeated Angle with a Pedigree at Unforgiven. McMahon also won her first WWF Women's Championship after defeating champion Jacqueline with the help of Tori and D-Generation X. Stephanie became the general manager of Smackdown in 2002 and feuded with Raw General Manager Eric Bischoff. Stephanie also made a storyline of her rivalry with her father Vince Mc Mahon due to his on-screen love with Sable. At No Mercy, they had  "Father–Daughter 'I Quit' match".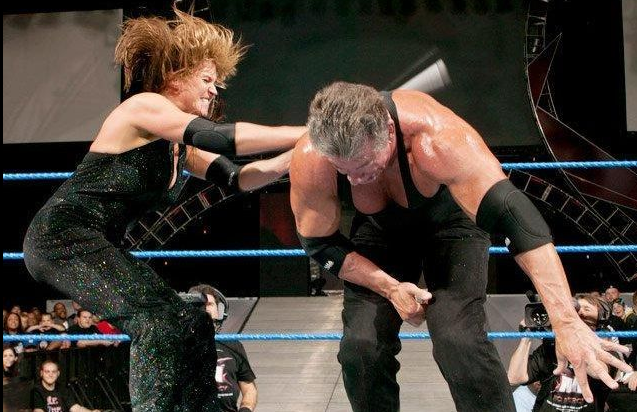 From 2008 to 2009, Stephanie took over the position of Raw General Manager. During that time, she was involvoed in a feud between Triple H and Randy Orton. In 2013, Stephanie Mc Mahon started her on-screen villainous character with Triple H as a controlling power couple dubbed The Authority believing in "best for business". The Authority feuded with Daniel Bryan, Big Show, John Cena, Randy Orton, Sting and Roman Reigns.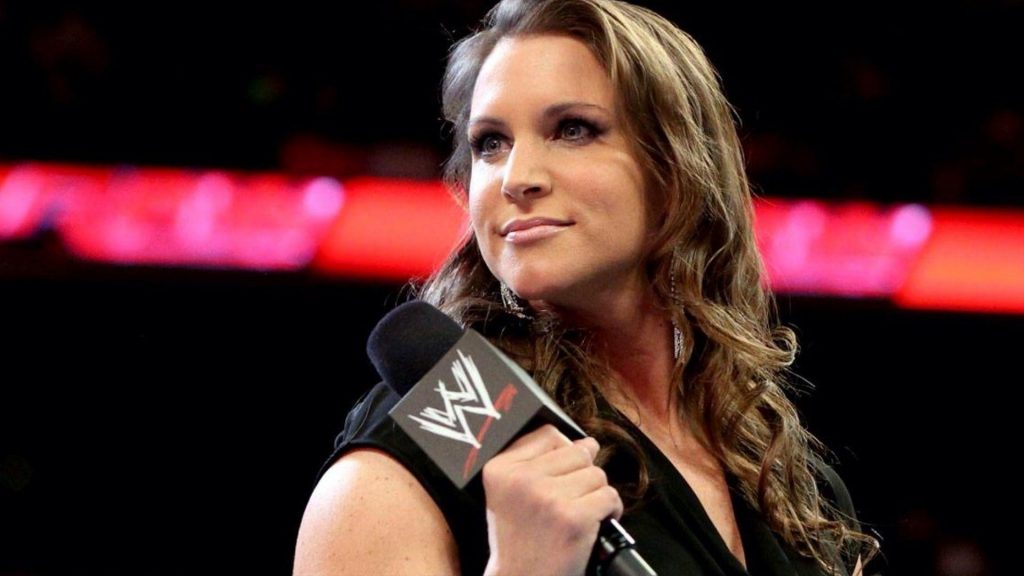 In 2016,  Mr. McMahon announced Stephanie as the commissioner of the Raw brand, while Shane was named commissioner of SmackDown.  Stephanie started her feud with Ronda Rousey that pushed them to compete at Wrestlemania 34. Stephanie along with Triple H battled Ronda Rousey and Kurt Angle. At the event, her team was defeated when she tapped out to Rousey's armbar.
Stephanie has also appeared in numerous WWE video games as a playable character that includes WWF WrestleMania 2000, WWF SmackDown!, WWF No Mercy, WWF SmackDown! 2: Know Your Role, WWF SmackDown! Just Bring It, WWE Raw 2, WWE WrestleMania X8, WWE SmackDown! Shut Your Mouth, WWE Crush Hour, WWE WrestleMania XIX, WWE SmackDown! Here Comes The Pain, WWE '13, WWE 2K14, WWE 2K16, WWE 2K17, WWE 2K18 and WWE 2K19.
HONORS
Feud of the Year (2002) vs. Eric Bischoff
Feud of the Year (2013) vs. Daniel Bryan as part of The Authority
Most Hated Wrestler of the Year (2013) as part of The Authority
Most Hated Wrestler of the Year (2014) – with Triple H
Woman of the Year (2000)
Vincent J. McMahon Legacy of Excellence Award (2016)
ACHIEVEMENTS
Stephanie is a one-time WWF Women's ChampionStephanie won Slammy Awards (2 times) – Insult of the Year in 2013  for insulting Big Show and Rivalry of the Year in 2014- The Authority vs. Daniel Bryan
PHYSICAL MEASUREMENTS
HEIGHT: 173 cm
WEIGHT: 62 kg (137 lbs)
EYE COLOR: Blue
HAIR COLOR: Dark Brown
PERSONAL INFORMATION
Full Name: Stephanie Marie McMahon
Age: 43 years
Date of Birth: September 24, 1976
Hometown:  Hartford, Connecticut, U.S.A.
Zodiac: Libra
Religion: American
EDUCATION/School:  Greenwich High School in 1994
FAVORITES
Favorite wrestler: Triple H and Shawn Michaels
Favorite actor: Dwayne Johnson
Favorite actress: Angelina Jolie
Hobbies: Wrestling, gymming, shopping, traveling, yoga
Favorite Food: Oats, fruits
Dream Holiday Destination: Unknown
Favorite Color: Black and Blue
NET WORTH
$76 Million estimated
CONTROVERSY
Stephanie Mc Mahon faced wardrobe malfunction when once Triple H pedigreed her on the announce table back in 2002 and she fell out of her top.
SOCIAL MEDIA PROFILES
Facebook:  https://www.facebook.com/StephMcMahonWWE/
Twitter:   https://twitter.com/StephMcMahon
Instagram: @stephaniemcmahon