Sawarn Singh Biography: One of the well-known rowers in India, Sawarn Singh specializes in the single scull discipline. The rower's journey is an inspiration for many. Overcoming a list of hurdles, Sawarn earned a bronze medal in the Men's single sculls discipline at the Asian Games in 2014. In 2013, Sawarn Singh earned a gold medal for his homeland at the Asian Senior Rowing Championship. After a lot of hard work, Sawarn Singh earned one of the most honourable distinctions, the Arjuna Award in 2015.
EARLY LIFE
Coming from one of the backward villages of Punjab, the rower struggled throughout his way until he reaches on the top of his game. His notable performances have been at the major international events like Commonwealth Games & Olympics, marking his village, Dalelwal of Punjab, on the world map. From a time when he did not even know the correct pronunciation of the sport to now when he is at its peak, Sawarn Singh has put a lot of hard work throughout his sporting career.
PERSONAL LIFE
Sawarn Singh was born on 20 February 1990 in Dalelwala Mansa, Punjab, India. He was born to Gurmukh Singh and Kulwinder Kaur. His father is a farmer & tills 8 acres of land in their village. Sawarn started rowing at a tender age of 18. As a kid, Sawarn wanted to play for India but little did he knew that one day he would reach such a great height. He tried his hands on rowing at the age of 18 & Bajrang Lal Takhar has always been his idol. Apart from Bajrang, runner Fauja Singh was there in his mind as an inspirational force.
In 2008, Sawarn joined the Indian Army through a recruitment rally in Raipur, Chattisgarh. He joined the Indian Army to help his family. At that point, he was completely clueless about rowing. Sawarn knew swimming as he learned it in the village ponds. Later he was selected in the 10 Sikh regiment rowing team. In 2012, he competed at the Olympics & earned the bronze medal at the Asian Games in 2014. His achievements made his villagers realise the importance of rowing. Earlier, nobody in his village knew that race of boat is a professional sporting event.
In 2009, started his rowing journey on a serious note & in 2011 he was titled as India's best rower when he clinched a gold medal at the National Games.
PROFESSIONAL LIFE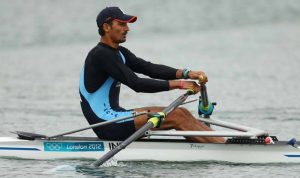 In 2011, Sawarn Singh earned a bronze medal at the Asian Rowing Championships. In 2012, he successfully qualified for the Summer Olympics in the Men's Single scull discipline & reached in the 16th position with a clock time of 7:00.49 in the first repechage.  The 21-year-old Indian rower secured his place in the London Olympics by acquiring a victory in his specialized event at the FISA Olympic Continental Qualification Regatta for Asia held at Chung Ju, Korea. In 2013, he won at the 2013 Asian Championships and also earned a bronze medal at the Asian Games in 2014. In 2018, Sawarn earned a gold medal at the Asian Games in the Men's Quadruple Sculls.
AWARDS
Arjuna Award for Rowing in 2015
ACHIEVEMENTS
ASIAN GAMES
Bronze: 2014, Incheon: Men's Single Sculls
Gold: 2018, Jakarta: Men's Quadruple Sculls
| | | |
| --- | --- | --- |
| EVENT | PLACE | POSITION |
| World Rowing Championships | Slovenia, 2011 | 17 |
| Asian Rowing Championships | Korea, 2011 | 3 |
| Summer Olympics | London, 2012 | 16 |
| 15th Asian Senior Championship | China, 2013 | 1 |
| Asian Games | South Korea, 2014 | 3 |
| Asian Games | Indonesia, 2018 | 1 |
| | | |
| --- | --- | --- |
| GAME | CITY | ACHIEVEMENTS |
| 34TH National Game | Jharkhand | Gold |
| World Rowing Championship | Slovenia | 17th Position |
| Asian Olympic Qualification Regatta | South Korea | Gold |
| 30th Olympic Games | London | 16th Position |
| World Rowing Championship | South Korea | 12th Position |
| Paolod' Aloja International Regatta | Italy | 5th Position |
PERSONAL INFORMATION
Name: Sawarn Singh  Virk
Nickname: Sawarn Singh
Sport: Rowing
Events: Men's Single Sculls & Men's Quadruple sculls
Country: India
Father's name: Gurmukh Singh
Mother's name: Kulwinder Kaur
Sibling: Lakhwinder Singh
Coach: NOT UPDATED
Height: 188 cm (6' 2")
Weight: 80 kg (176 lbs)
Eye colour: Black
Hair colour: Black
Date of birth: 20 February 1990
Age: 29
Birth Place: Dalelwala Mansa, Punjab, India
Zodiac sign: Aquarius
Nationality: Indian
Hometown: Punjab
Religion: Punjabi
CONTROVERSY
Apart from his glorious performances and achievements, the Indian rower has never been a part of any controversy.
NET WORTH OF SAWARN SINGH
The primary net worth and income of Sawarn Singh comes from his service in the Indian Army & also his sporting profession.
SOCIAL MEDIA HANDLES OF SAWARN SINGH
FACEBOOK- https://www.facebook.com/rowersawarn/
INSTAGRAM- https://www.instagram.com/sawarn_singh_/?hl=en
TWITTER- https://twitter.com/annu_rajsingh