Neil Wagner

Born:

March 13, 1986

Birth Place:

Pretoria, Transvaal

Height:
Role:

 Bowler

Batting Style:

Left-hand bat

Bowling Style:

Left-arm medium-fast
Batting Career Details:-
| | | | | | | | | | | |
| --- | --- | --- | --- | --- | --- | --- | --- | --- | --- | --- |
| | M | Inn | Runs | HS | Avg | BF | SR | 100 | 200 | 50 |
| Test | 42 | 54 | 510 | 47 | 12.44 | 1199 | 42.54 | 0 | 0 | 0 |
Bowling Career Details:-
| | | | | | | | | | | |
| --- | --- | --- | --- | --- | --- | --- | --- | --- | --- | --- |
| | M | Inn | B | Runs | Wkts | BBI | BBM | Econ | Avg | SR |
| Test | 42 | 79 | 9167 | 4788 | 174 | Jul-39 | Sep-73 | 3.13 | 27.52 | 52.68 |
Neil Wagner Introduction: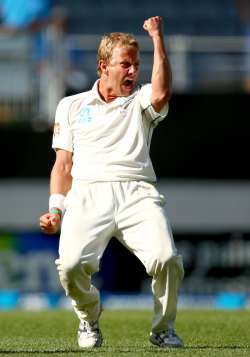 Neil Wagner is a South African born cricketer who features for New Zealand in Test cricket and Northern until 2007/08 and Otago between 2008 and 2018. He is a left-handed fast bowler who uses short balls to good effect and makes the opposition batsman trouble.
Neil Wagner Early Life:

Neil Wagner was born in Pretoria and took part in the Afrikaanse Hoer Seunskool as a high school student where he featured for the first team he played. He toured Zimbabwe and Bangladesh with South African academy sides and was 12th man for South Africa. In 2008, he moved to New Zealand to pursue Test cricket. During 2009 June, Wagner was awarded a place in the New Zealand Emerging players squad under Peter Fulton.
Personal Life:
Neil Wagner is married to Lucinda du Toit and has welcomed to a baby named as Olivia Faith Wagner on 19th February 2020. He was born on 13th March 1986 and is a Christian. After shifting to New Zealand, he has become a New Zealander.
He is aged 33 and born in Pretoria.  Wagner is known as Wag in the New Zealand Test team. Wagner parents name is not known and has a dog.
Professional Life:
He took four wickets four balls against Wellington on April 6, 2011, dismissing Stewart Rhodes, Joe Austin Semille, Jeetan Patel and Illi Tugaga and then dismissed Jason Gillespie of the same over which is the record that has been achieved in first-class cricket.
Neil Wagner made his Test debut for New Zealand against West Indies at North Sound, Antigua from on 25th June 2012. Since then he has played 47 Test matches (62 innings) and taken 204 wickets with an economy of 3.06 runs per over with best figures of 7/39. During the recently concluded Test series against Australia National Cricket Team, Wagner was the leading wicket-taker for New Zealand with 17 wickets and bowled with a lot of heart.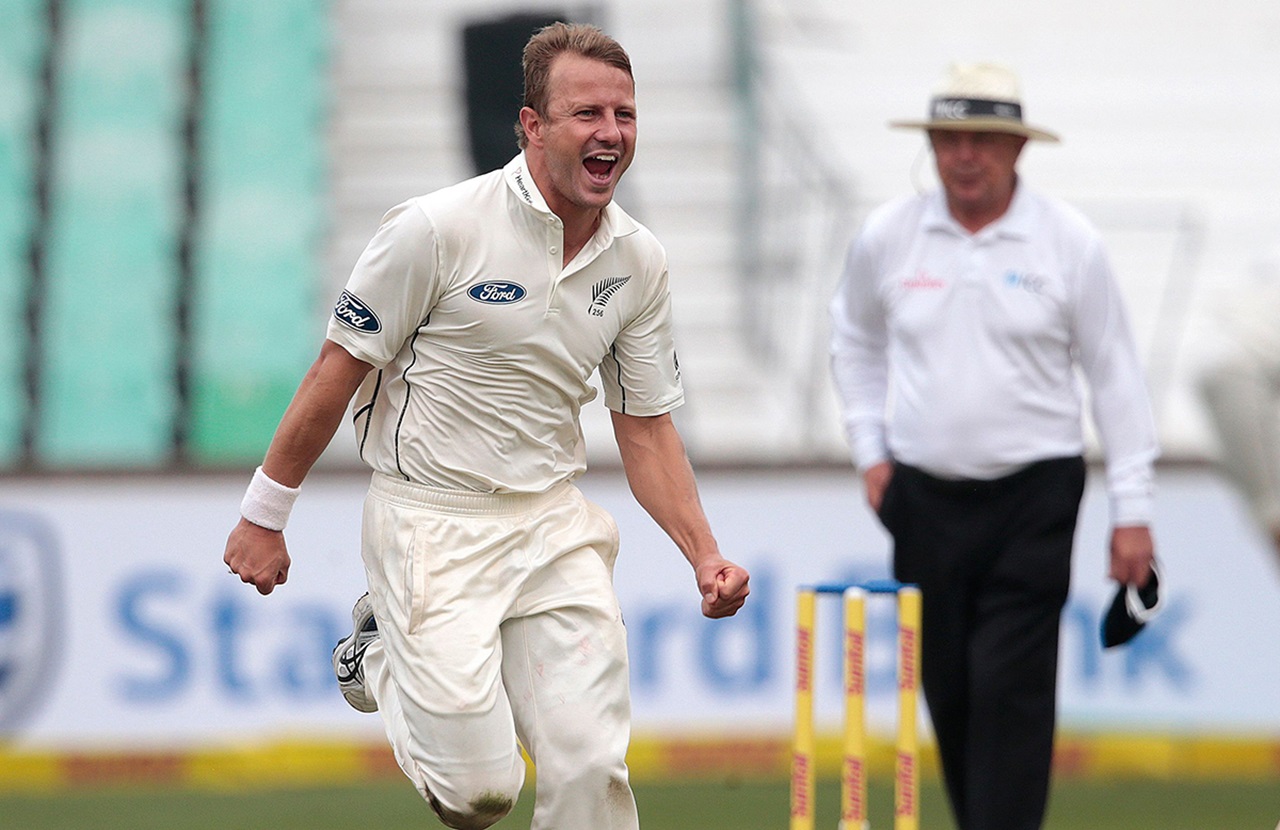 He is one of the key bowlers for New Zealand in Test cricket. Apart from 47 Test matches, Wagner has also featured in 170 first-class matches (312 innings) and taken 715 wickets, 108 List A matches ( 104 innings) and taken 166 wickets. He has also featured in 76 T20s matches (72 innings) and taken 79 wickets with an economy of 8.78 runs.
Neil Wagner has shown tremendous skills as a Test bowler with short balls and not allowing the batsman to score runs easily. He has played for various franchises in New Zealand including Northerns, Titans, Otago, Northamptonshire, Lancashire, Essex. Now, he plays for Northern Districts. He has not featured in limited-overs format for New Zealand National Cricket Team.
Achievements and Awards:
Neil Wagner is one of the best Test fast bowlers in modern-day cricket. He is currently at number 2 in latest ICC Test bowlers. He was nominated by Cricinfo for the best bowling figures in Test matches for 2019/20.
During the 2nd Test match against Australia on 28th December at MCG, Wagner became the 2nd fastest bowler to reach 200 Test wickets after Richard Hadlee. He achieved the feat dismissing Steve Smith in the 2nd innings of 2nd Test match.
Wagner took 46 Test matches (86 innings) to reach 200 wickets. The other New Zealand bowlers to feature in this list are Trent Boult who achieved in 52 games, Tim Southee in 56 games and Chris Cairns in 58 games.
He is the 2nd left-arm bowler to reach 200 wickets in Test matches. Ravindra Jadeja is the fastest to reach 200 wickets from 44 matches.
Physical Measurement:
Neil Wagner is 6 feet tall who can extract bounce. He weighs about 215 LBS and has blonde eyes. Wagner has black and blonde hairs.
Net Worth:
Neil Wagner net worth in 2020 is estimated to be in a range of approximately $31623. The estimated net worth includes stocks, properties, luxury, goods, such as yachts and private airplane.