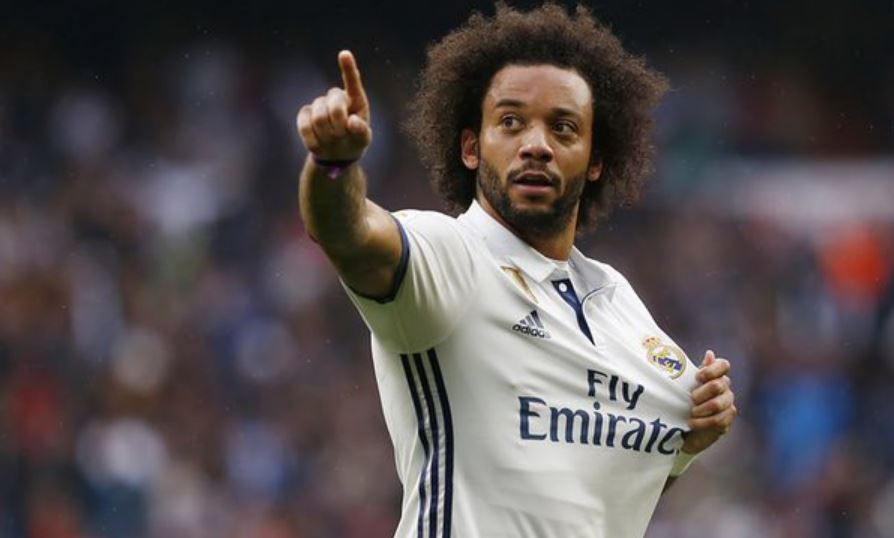 Marcelo Vieira da Silva Junior is a Brazilian professional footballer who plays as a left-winger for the Brazilian national team and the Spanish Club Real Madrid. On the field, he is commonly known as 'El Loco' meaning Crazy. He begins his football carrier with Fluminense for whom he brought the Campeonato Carioca title in 2005. In 2006 he was named in the Brasileirao team of the season, at the age of 18. He joined Real Madrid in 2007 for eight million dollars. In the Spanish club, he established himself as a promising player through helping the club to acquire 20 trophies, which includes the UEFA Champions League and the La Liga titles four times each. He has been mentioned for the title of FIFPro World XI five times, UEFA Team of the year Three times and La Liga's team of the season one time in 2016. For his national team, he had helped them to lift the Confederations Cup of 2013 by defeating Spain in the final, also to reach the semi-finals of 2014 FIFA World Cup.
EARLY LIFE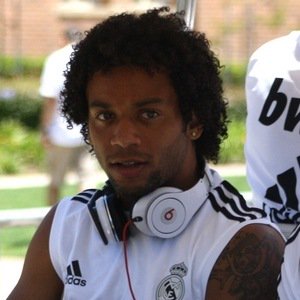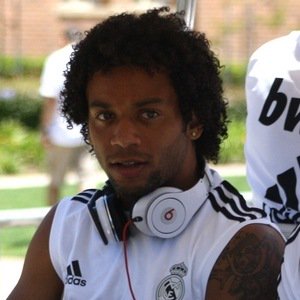 Marcelo Vieira was born on 12th May 1988 in Rio de Janeiro, Brazil to Mr. and Mrs. Marcelo Vieira da Silva. Marcelo has working parents, his mother worked as a teacher while his father was a fisherman by profession. His love for football was very natural which takes him to the popular Brazilian youth Club, Fluminese at the age of 13, he initially  started good but due to financial problems he couldn't afford to continue training, but the club after seeing his nevertheless determination and the ability to fight for football, made some arrangements to bring him back in the club. While playing for the club Marcelo became the focal point for many club scouts from all over the world, but it was Real Madrid who snapped him before anyone else can in 2007 for 8 million dollars.
PERSONAL LIFE
Marcelo married his long-time girlfriend Clarice Alves on 24 September 2009, the couple is blessed with two sons named Enzo and Liam. Marcelo has several tattoos upon his body which includes his grandfather's name tattooed upon his left arm with the jersey number and date of birth. Marcelo is also the face of Adidas since 2013, he joined the brand together with Gareth Bale and Karim Benzema at a promotional event showcasing the F50 adiZero.
PROFESSIONAL LIFE
"He is an important signing for us. He is a young player who will inject some freshness into the side and is part of our plan to bring younger players into the squad. We're very happy because he's a pearl that half of Europe wanted" these were the words of the Real Madrid club president Ramon Calderon upon the arrival of Marcelo in the club, like the club's president the club's fans also welcomed him open heartily, many among them saw him as the successor of Roberto Carlos.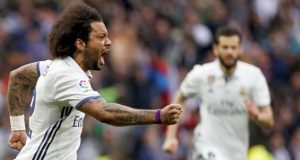 Marcelo made his debut as a substitute against Deportivo La Coruna on 7th January 2007 in a loss to 2-0, following it he played his second game on 14th April 2007 assisted in netting a goal but eventually lost the math by 2-1 controversially. Marcelo's performances were very poor in 2009, seeing which the new manager Juande Ramos experimented with Marcelo's position shifting from defensive midfielder to left-winger. After which he netted his first goal against the Sporting de Gijon by 4-0. At the end of the game, it as decided that he would be playing as a winger but will be pushed back at the defense lines whenever required. For Marcelo the second season, was very fruitful, his confidence returned while playing as a left-winger under the head coach Manuel Pellegrini. In 2010-11 season due to his previous performances, he was named among the 55 player shortlisted for the FIFA World XI. Marcelo was heavily praised worldwide for his goal against the FC Barcelona in the Camp Nou that ended in a draw, his performance in the La Liga grabbed the eye of Diego Maradona who claimed him as the third-best player in La Liga after Messi and Ronaldo. In the coming seasons he netted his first goal of the season against Manchester City in the Champions' League Group stage on 19th September, he also served as the caption of the team one against the Estadio Riazor on 23rd February and on 20th April against Real Betis. At the 2014 UEFA Champions League Finals Marcelo netted the third goal thus solidifying his team by 4-1 against the Atletico Madrid. In 2016-17 season he played his 30th La Liga match when Madrid won the 2016-17 La Liga, in the same year he also played an important role for his team to win 2016-17 UEFA Champions League. On 13th September 2017, he signed a new contract with the club until 2022 summer. Marcelo made his debut for the Brazilian national team against Wales at Tottenham Hotspur's White Hart Lane, representing his team in the Olympics his performances brought Bronze in 2008 and silver in 2012. In 2013 he was played a crucial role in the 2013 Confederations Cup finals through solidifying his team win against Spain, later he has been a part of the 2014 and 2018 FIFA World Cup Matches. On May 2019 he was excluded from Brazil's final 23- man squad for the 2019 Copa America by the manager Tite.
| | |
| --- | --- |
| Clubs | Season |
| Fluminense | 2005-2006 |
| Real Madrid | 2006-2020 |
 HONORS 
Fluminense
Campeonato Carioca: 2005
Taça Rio: 2005
Real Madrid
La Liga: 2006–07, 2007–08, 2011–12, 2016–17
Copa del Rey: 2010–11, 2013–14
Supercopa de España: 2008, 2012, 2017
UEFA Champions League: 2013–14, 2015–16, 2016–17, 2017–18
UEFA Super Cup: 2014, 2016, 2017
FIFA Club World Cup: 2014, 2016, 2017, 2018
 ACHIEVEMENTS
Campeonato Brasileiro Série A Team of the Year: 2006
L'Équipe Team of the Year 2016, 2017, 2018
UEFA Team of the Year: 2011, 2017, 2018
FIFA FIFPro World XI: 2012, 2015, 2016, 2017, 2018
FIFA World Cup Dream Team: 2014, 2018
La Liga's Team of the Season: 2015–16
Facebook FA La Liga Best Defender: 2016
UEFA Champions League Squad of the Season: 2015–16, 2016–17, 2017–18
ESM Team of the Year: 2015–16, 2016–17
EA SportsFIFA Team of the Year: 2016, 2017, 2018
IFFHS Men's World Team: 2017, 2018
 INTERNATIONAL HONOURS
Brazil
Olympic Silver Medal: 2012
Olympic Bronze Medal: 2008
FIFA Confederations Cup: 2013
Brazil U17
FIFA U-17 World Cup runner-up: 2005
 PHYSICAL MEASUREMENTS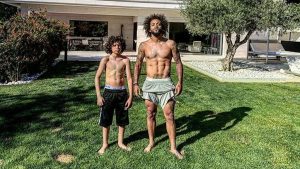 Height: 5ft 9in
Weight: 78 kg
Eye color:  Dark Brown
Hair color: Black
Marcelo PERSONAL DETAILS
Full Name: Marcelo Vieira da Silva Júnior
Date of Birth: 12th May 1988
Place of Birth: Brazil
Playing Position: Left-back
Nickname: El Loco
EDUCATION: Unkown
Relationships: Clarice Alves
Kids: Enzo and Vieira
HOBBIES: Playing tennis and Dancing
CONTROVERSY
 There were heavy rumors about the Brazilian player Marcelo, leaving the Real Madrid and would joining the Juventus with Cristiano Ronaldo, but in a press conference, Zinedine Zidane (manager of Real Madrid) filing the gap announced Marcelo's continuity with the club till 2022 summers.    
NET WORTH
17 Million dollars
 SOCIAL MEDIA
Facebook: https://www.facebook.com/marcelom12/
Twitter: @MarceloM12
Instagram: @marcelotwelve