Khusbir Kaur is an Indian athlete who specializes in 20 km racewalker. The athlete from Amritsar has won several medals at prestigious events and also has been awarded with Arjuna Award for her outstanding achievements in sports.
EARLY LIFE:
In the year 2010, Kaur hogged the limelight with her splendid performance at 2010 Asian Junior Athletics Championships. In 2008, Kaur participated in a race barefoot due to her financial problem. After showcasing back to back excellent performances in many events, Khushbir secured a second position at the Youth Asian Games & was third at the 2012 Junior Asian Games. She also gave a power-packed performance in the senior Walking Asian Championship where she finished at 5th position.
At her initial athletic life, she was trained by Baldev Singh and later she was guided by Alexander Artsybashev & Ajay Rati.
PERSONAL LIFE: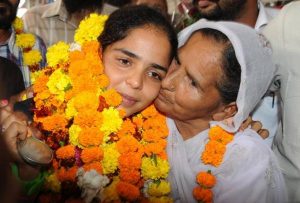 Kushbir Kaur was born on 9th July 1993 in a small village named Rasalpur, near Jalandhar, Punjab. Both her father & mother, Jasbir Kaur, were farmers. Her father passed away at the age of 6. Kaur has 4 more siblings. After her family demise, her mother took care of the whole family and also encouraged Kaur to establish as an exceptional athlete. Jasbir Kaur toiled and provided every possible facility for her 5 children. She became the only source of income by doing odd jobs like selling milk& sewing clothes.
Kaur family's situations changed when Khushbir Kaur started running. Jasbir's struggled paid off when her daughter came back home with a silver medal in 2014.
PROFESSIONAL LIFE:
Kaur never let her hardships hinder her professional life. She became the first woman to earn a silver medal at Asian Games 2014.
In 2013, Kaur broke her own personal record at the Moscow World Championship in the Women's 20 km walk and finished at 39th position.
In 2016, she finished at the 54th position with a clock time of 1:40.30in the 20 km race walk and made a mark in the International Sports Championship.
In 2018, she finished in the fourth position at 21st Commonwealth Games in Australia with a clock time of 1:39.21 in the women's 20 km racewalk.
The Anglian Medal-Hunt Company supports Khusbir.
AWARDS
ACHIEVEMENTS
ASIAN GAMES
Silver: 2014, Incheon: 20 km walk
ASIAN JUNIOR CHAMPIONSHIPS
Bronze: 2012, Colombo: 10 km walk
PERSONAL INFORMATION:
Name: Khushbir Kaur
Nickname: Khushbir Kaur
Sport: Athletics
Events- Racewalking
Father's name: NOT YET UPDATED
Mother's name: Jasbir Kaur
Coach- Baldev Singh,Alexander Artsybashev & Ajay Rati.
Personal bests- 5 km walk: 25:30.27(Singapore, 2010), 10 km walk: 49:21.21 (Bengluru, 2010) & 20 km walk: 1:33:07 (Incheon, 2014)
Weight: 52 kg
Height: 156 cm
Eye colour: black
Hair colour: black
Date of birth: 09 July 1993
Age: 26 years
Birth place: Rasalpur, near Jalandhar, Punjab, India
Zodiac sign: Cancer
Nationality: Indian
Hometown: Jalandhar, Punjab
Religion: Sikh
CONTROVERSY:
Khushbir Kaur has always made headlines for her glorious performances and achievements. The dedication towards her sport kept Khushbir out of any such controversy.
NET WORTH:
NOT YET UPDATED.
SOCIAL MEDIA HANDLES:
FACEBOOK- NOT ACTIVE
INSTAGRAM- NOT ACTIVE
TWITTER- NOT ACTIVE