Indian Team Orange Jersey:- Team India are sitting in a comfortable position at the points table having accomplished three wins out of four. After registering comfortable victories against some of the strong teams like Australia, South Africa and Pakistan, India will next play against the dark horses in the World Cup, namely, Afghanistan and West Indies on 22 and 27th July respectively.  
Meanwhile, it has been revealed that India will sport an orange jersey in the match against England on 30th June 2019. For the first time ever in a World Cup, the Indian team will wear two jerseys, following the home and away jersey concept introduced by ICC for the ICC World Cup 2019.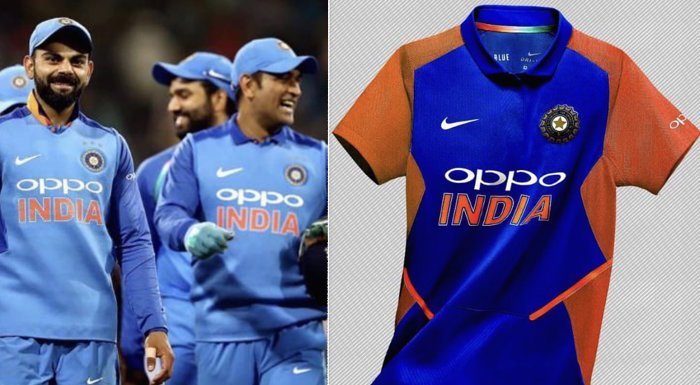 In a bid to unveil the jersey, Journalist G.S. Vivek took to Twitter to reveal India's away jersey, to be played in the match against England.
"My colleague Kuntal Chakraborty gives all of us a glimpse into the future of team India… This is the new uniform for Team India against England.. a dash of Orange.. with a liberal dose of blue." He wrote.
"For televised ICC events all participating teams will be required to provide for two different coloured kits, except for the host country who has a preference in the choice of colour and may, if it chooses to do so, provide only one coloured kit to be worn in all matches throughout the event. In advance of the event the teams will be notified which coloured kit will be worn in each match," the ICC said in a release.
Indian Team Orange Jersey:- The team like India, England, Sri Lanka (all blue) and Pakistan, South Africa, and Bangladesh (green) have common colour jerseys, and in a bid to distinguish between the sides, the ICC came up with a home and away jersey concept in this year's World Cup.
Indian team have sported the blue jersey in all the games they have played so far. They will wear the orange jersey for the first time on June 30 against England.
Thus far, South Africa has worn an away jersey in the match against Bangladesh. Earlier, Bangladesh had also unveiled their jersey, which saw mixed reactions from the fans. While some liked it, a few went on to compare with the jersey of Zimbabwe who isn't playing in this edition of the World Cup.
The match between India and Afghanistan will also see Afghanistan wearing an away jersey, given that both teams have blue jerseys. Afghanistan's jersey has been modified in red with a dash of blue in it.