Deepak Punia is a freestyle wrestler who specializes in the 86 kg event. He represented India and earned a silver medal for his homeland at the World Wrestling Championships in the freestyle 86 kg category. Deepak has been making the waves and is being hailed among the top crop of Wrestlers in the country.
Deepak  recently reached the top of the rankings in the 86kg category.  He currently has 82 points, four more than the previously top-ranked wrestler, Hasan Yazdani from Iran.
Deepak Punia is also one of the four Indian wrestlers to have secured their place at the 2020 Tokyo Olympic Games.
EARLY LIFE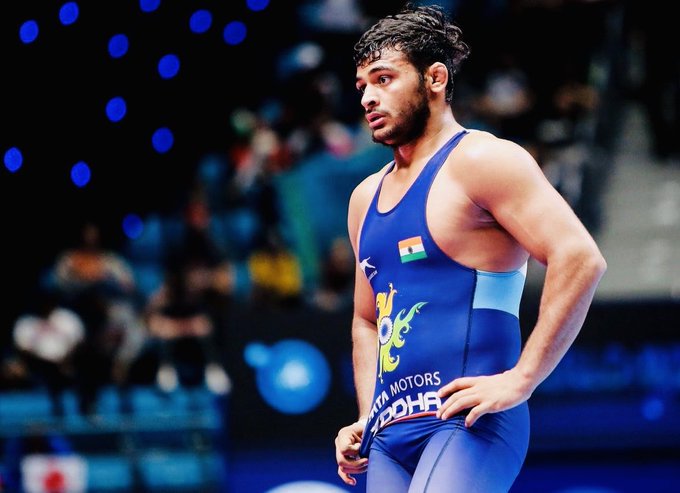 Deepak Punia chose wrestling as a route to find a good job to create a better world for his family. He was offered a sepoy post in the Indian Army. Late that year, Sushil Kumar advised Deepak that he should not settle for small things & dream big in his life. He also asked him to set wrestling as his priority. Deepak Punia listened to his advice and started toiling for his wrestling career. Within 3 years, Deepak was successful in bagging some major titles in his age group.
PERSONAL LIFE
Deepak Punia was born in Jhajhar district in Haryana. In Jhajhar village, wrestling is always an option for people. Deepak's father, Subash Punia, is a dairy farmer who used to take the little Deepak to dangals.  Deepak started his wrestling journey at the age of 5 in an akhara in his village that was run by the Arjun Awardee, Virender Singh Chhara. His father has been very supportive throughout his journey. Since 2015, Subash Punia travels 60 km to his training centre every day to give him milk & fruits. Deepak is a disciplined player & the wrestler has that from his father. His father has toiled for his career & success on Deepak's mat resulted in bettering the financial condition of his family. Deepak has been making his family proud since the age of seven.
PROFESSIONAL LIFE
Deepak grew up watching wrestlers around him as the village where he belongs to is very active in the dangal circuits. The little Deepak was introduced to wrestling when he was 4 years old. One of his cousins, Sunil Kumar, was an excellent player in the wrestling circuit and he was the one who accompanied Deepak to akharas. Soon, the little Deepak started travelling to compete in dangals in his neighbouring villages. Gradually, he got so exceptional at it. Whatever small amount he earned from dangals, he spent it on his diet & also helped his family.
Sunil realized that fighting only in dangals won't grow Deepak as a professional wrestler. In 2015, Deepak moved to Delhi and joined Chhatrasal Stadium. Deepak's success & fame has followed a pattern. He earned a gold medal at the Cadet World Championship in 2016.
He got a sponsorship from the Olympic Gold Quest (OGQ) that took away a little worry from the wrestler and now he is fully concentrating on improving his skills.
ACHIEVEMENTS
WORLD CHAMPIONSHIPS
Silver: 2019, Nur-Sultan: 86 kg
WORLD JUNIOR CHAMPIONSHIPS
Silver: 2018, Trnava: 86 kg
Gold: 2019, Tallinn: 86 kg
ASIAN CHAMPIONSHIPS
Bronze: 2019, Xi'an: 86 kg
WORLD CADET CHAMPIONSHIPS
Gold: 2016, Tbilisi: 85 kg
ASIAN JUNIOR CHAMPIONSHIPS
Gold: 2018, New Delhi: 86 kg
PERSONAL INFORMATION
Name: Deepak Punia
Nickname: Deepak Punia
Sport: Freestyle Wrestling
Events: 86 kg
Country: India
Father's name: Subash Punia
Mother's name: Krishna Punia
Coach: Virender Singh Chhara
Height: not updated
Weight: not updated
Eye colour: black
Hair colour: black
Date of birth: not updated
Age: 22 years old
Birth place: Haryana
Zodiac sign: not updated
Nationality: Indian
Hometown: Haryana
Religion: Hindu
CONTROVERSY
Wrestler Deepak Punia has never been dragged into any controversy. Recently, he hit headlines when he got qualified for the Tokyo 2020.
NET WORTH OF DEEPAK PUNIA
NOT YET UPDATED.
SOCIAL MEDIA HANDLES OF DEEPAK PUNIA
FACEBOOK- NOT ACTIVE
INSTAGRAM- NOT ACTIVE
TWITTER- NOT ACTIVE
It's a matter of great pride for India that wrestler #DeepakPunia is World No.1 in the 86kg category. He won a silver at the recently-concluded World Championship. The 20-year-old has beaten Hasan Yazdani for the top spot. @KirenRijiju congratulates Deepak on this achievement. pic.twitter.com/RhJ5dxZdDn

— Office of Kiren Rijiju (@RijijuOffice) September 28, 2019