Gold medalist, Ankit Sharma is an Indian athlete who participates in the long jump event. He is also a national record holder which he set in 2016 G. He was the first from his state that got qualified for the Rio Olympics.
EARLY LIFE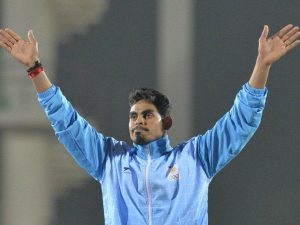 Inspired by his father, Ankit Sharma picked up the sport of long jumping very early in his career. Success didn't have to wait too long as Ankit got selected and he represented Sports Authority of India in Bhopal when he was just 13 years old. Having been acquired appropriate training from Nishad Kumar and Bedros Bedrosian, the young athlete has given glorious performances in saveral prestigious events.
Before sticking to long jump, Ankit has tried his hands on many sports. Ankit's parents were very supportive throughout his athletic journey and showered all their blessings which helped him attain many titles for India.
PERSONAL LIFE
Ankit Sharma was born on 20th July 1992 in Pinahat town, Uttar Pradesh. His father Mithlesh Sharma is a retired Government teacher & a long jumper, while his mother, Harnath Sharma, is also a teacher. Ankit's family hails from Madhya Pradesh (Morena district).
They migrated to Pinahat, few years before Ankit was born. He completed his initial schooling at Morena & the rest of his schooling was done in Bhopal. Sharma's elder brother is also an athlete.
In childhood, Ankit was highly motivated by his father who was a long jumper himself and the first jump of the athlete from his father's feet.
After a lot of struggle, Ankit is in a position where he is today. There is an inspiring story behind the success and fame he is enjoying today. Long jumper, who got qualified for Rio Olympics didn't return to his home for a long time. For his practice, he kept traveling from place to place which kept him away from his family for 4 years.
Ankit initially wished to become a cricketer. But he left his dream as he didn't receive any necessary facilities in Morena. At the age of 8, Ankit started preparing his skills in the javelin throw. But his coach advised him to try his hands on long jump. Surprisingly, Sharma did great in his practice sessions of long jump. After noticing his long jump skills in a long jump competition which was a part of Raksha Bandhan celebrations, his parents suggested him pursue his athletic career in long jump.
In 2015, Ankit was selected by the Income Tax Department and was posted in Chennai as an Income Tax Inspector.
PROFESSIONAL LIFE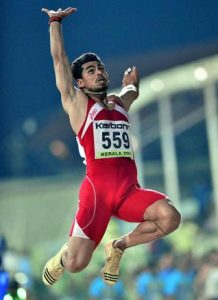 The 27 years old athlete has dedicated a lot of hard work & time to build his athletic career. After 24 years, Ankit from Agra participated in Olympics after Jagveer Singh (hockey player).
Ankit participated in Commonwealth Games in 2010 but didn't earn a medal. After his participation in Asian Games in 2010, he was not allowed to compete in the Asian Games 2014. He was highly disappointed but he came back with a bang in Thiruvananthapuram at National Games where he became the 5th Indian to go past the 8 m mark. Following his win in 2015, he earned a gold medal at South Asian Games in 2016 and broke a 27 year Games record.
In 2016, Ankit broke the national records in the G. Kosanov Memorial Meet in Kazakhstan. He was qualified for the Summer Olympics 2016 in Rio de Janeiro.
AWARDS
ACHIEVEMENTS
LONDON OLYMPICS: Gold: 2012, London
SOUTH ASIAN GAMES: Gold: 2016
PERSONAL INFORMATION
Name: Ankit Sharma
Nickname: Ankit Sharma
Sport: Track & field
Events- Long Jump
Father's name: Harnath Sharma
Mother's name: Mithlesh Sharma
Height: NO UPDATED
Weight: NOT UPDATED
Eye colour: black
Hair colour: black
Date of birth: 20 July 1992
Age: 27 years
Birth place: Pinahat, Uttar Pradesh, India
Zodiac sign: Cancer
Nationality: Indian
Hometown: Uttar Pradesh
Religion: Hindu
CONTROVERSY
Ankit Sharma made headlines when he was omitted from the Asian Athletics Championships, China. The Athletics Federation of India deopped Ankit due to indiscipline & they also stated that Sharma left the camp arranged by the AFI & joined Sports Authority of India in Thiruvananthapuram. But Sharma raised allegations when
when K Prem Kumar was selected without him the AFI camp.
But later the controversy was put to rest & AFI included Ankit Sharma in the championships. The athlete has also made many headlines for his exceptional performances, numerous achievements & records.
NET WORTH OF ANKIT SHARMA
As an Income Tax Inspector, athlete Ankit Sharma receives his income from Government.
SOCIAL MEDIA HANDLES OF ANKIT SHARMA
FACEBOOK- https://www.facebook.com/Ankitsharma.olympian/
INSTAGRAM- http://www.insgain.com/user/ankit_sharma_longjump/1588861107
TWITTER- https://twitter.com/ankitolympian?lang=en