"The Messi of Goalkeepers" Alisson Becker is a Brazilian professional footballer who plays as goalkeeper for the Brazil national team and Premier League Club Liverpool, he started his carrier in football with Internacional, for whom he had made 100 appearances and had won the Campeonato Gaucho in each of his four seasons, which he played for the club. Before starting up in the line, Alisson was understudy to Wojciech Szczesny when he was transferred in 2016 for 7.5 million Euros to Roma. In 2016 he signed for Liverpool at a fee of 72 million Euros, which was the world-record fee for a goalkeeper at that year.
Playing for Liverpool in the very first season he received his Premier League Golden Glove on account of most clean sheets in the League, the 2019 UEFA Champions League Final eventually was won by Liverpool. Alisson has a phenomenal ability to save crucial goals from getting netted against his team, also he is well known for his positioning distribution and consistency. The six-foot two-inch goalkeeper was called as the Messi of Goalkeepers from Ex-goalkeeper Roberto Negrisolo. Alisson has represented his Brazil national team at many occasions some of which are at Copa America Centenario, 2018 FIFA World Cup, and 2019 Copa America.
Early Life
Alisson was born on 2nd October 1992 in the state of Rio Grande do Sul, Brazil to Magali Lino de Souza Becker and Jose Agostinho Becker. Being born in Brazil the country which is just crazy for football, his parents were delighted to know that their sons were getting themselves to indulge in the game.
Alisson's parents enrolled both their sons into the Academy of Brazilian Sports Club Internacional, but among the two brothers, Becker seemed more focused upon his dream. The completion inside the Academy was tough enough that tends both brothers to see each other as rivals, Alisson's parents were very much worried about the outcomes of this competition and were afraid too that it might nor destroy the brotherhood bond between the two brothers. Luckily it didn't happen with the due passage of time both the brothers maturely handle the relationship between then as well as the completion at the academy, after which massive support from both the brothers for each other was seen later.
In 2012 when the club was being coached by Dunga, retaining situations for the players and goalkeepers started emerging due to very stiff competition, it was the time when Alisson Becker rise to greatness, he challenged the former Brazilian goalkeeper Dida, to compete him the challenge ended up in a shock when Alisson demanded the full retirement from football in the year 2015.
Personal Life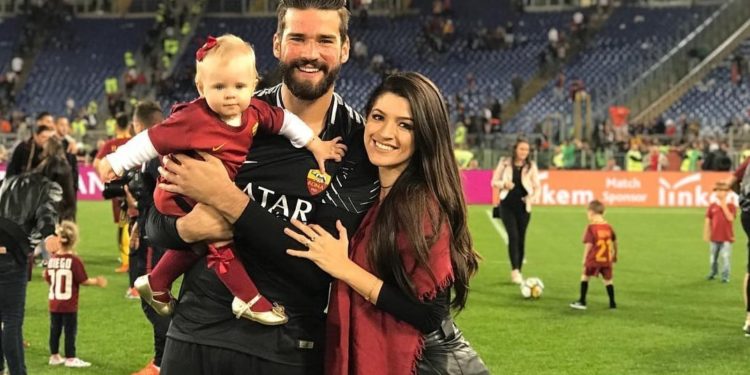 Alisson belonged to a Catholic family, while his family has German descent, he speaks English very well. He has been assigned the goodwill ambassador by the World Health Organization.
In 2015 he married Natalia Loewe who is a Physician by profession plus is from Brazil. The couple has been blessed with a daughter and a Son named Helena and Matteo.
Professional Life
Alisson gained so much fame and interest from the European Scouts after he forced Dida into retirement. The Italian club Roma won the race of signing Alisson Becker, but he soon got paranoid inside the club as he wasn't getting enough games to play, he just made 15 appearances but failed to appear in any league fixtures.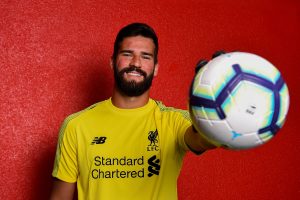 In the 2017-18 season, he finally made his Serie A debut against the Atalanta, his team won the match by 1-0. At the UEFA Champions League, he played an important role for the club to its way to semi-finals. At the season end he kept a total of 22 clean sheets across the season, he also clean 17 sheets in the league and 5 clean sheets in the UEFA Champions League. On 19th July 2018 Liverpool signed him for a fee of 71.6 million Euros, which made him the most expensive goalkeeper of the year, he was given jersey number 13 from the club.  Playing for the Liverpool, he made his first debut on 12th August against West ham United, Liverpool won the match by 4-0. Alisson continued showcasing his talent which he wasn't able to show when was with Rome, His performances started getting applauses after his steam wins over Crystal Palace and Brighton. In his debut year, he was shortlisted at the UEFA Champions League Goalkeeper of the season, which he finished second. Liverpool made its longest steak after being undefeated in 20 league games under Alisson thus, breaking Javier Mascherano's streak. At the end of the season, he kept a total of 21 clean sheets in Premier League and also won the Golden Glove. In 2019-20 season he was offered the number 1 jersey which had previously been worn by Loris Karius.
For the national team, he has been a part of the 2018 World Cup Qualification matches. At 2019 Copa he failed to keep a clean sheet that to in the final match against Peru. Brazil won by 3-1 following which he was honored with the Best Goalkeeper Award for his performances.
| | |
| --- | --- |
| Clubs | Season |
| Internacional | 2013-16 |
| Rome | 2016-18 |
| Liverpool | 2018-current |
Honours
Internacional
Campeonato Gaúcho: 2013, 2014, 2015, 2016
Liverpool
UEFA Champions League: 2018–19
International Honors
Brazil U23
Brazil
Achievements
UEFA Champions League Squad of the Season: 2017–18, 2018–19
UEFA Champions League Goalkeeper of the Season: 2018–19
Serie A Goalkeeper of the Year: 2017–18
Serie A Team of the Year: 2017–18
Premier League Golden Glove: 2018–19
Goal 50 World's Best Goalkeeper: 2018
Globe Soccer Awards Goalkeeper of the Year: 2018
Copa América Best Goalkeeper: 2019
Copa América Team of the Tournament: 2019
Physical Measurements
Height: 6ft 3in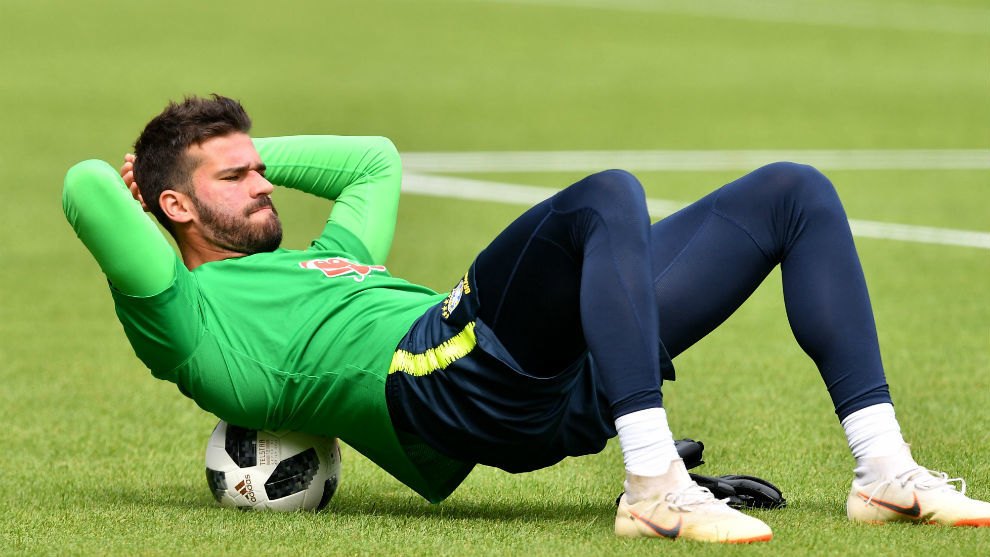 Weight: 91kg
Eye color: Hazel
Hair color: Dark Brown
Alisson Personal Details
Full Name: Alisson Ramses Becker
Date of Birth: 2nd October 1992
Place of Birth: Novo Hamburgo, Brazil
Playing Position: Goalkeeper
Nickname: The Messi of Goalkeepers
EDUCATION: Las Heras Elementary School
Relationships: Natalia Loewe
Kids: Helena and Matteo
HOBBIES: Guitar, Music, and Cycling

Controversy
A Clip over the night became viral that feature a person who looked like Alisson Becker and is cavorting with three Naked Women, However, the video doesn't seem to be exactly like the goalie and some viewers have also noticed that the group appear to be speaking German.
Net Worth
Alisson's Net Worth is estimated to be $4 Million dollars
Social Media Profiles
Facebook: https://www.facebook.com/AlissonBeckerOficial/
Twitter: @Alissonbeker
Instagram: @alissonbecker