Aditi Ashok Biography
Aditi Ashok is a pro-gold player who represents India in Rio Olympics. She has secured the position of the most prominent player. She has also been entitled to the 1st ranking player in 2019. Her total estimated career earnings are $565,770. As of, July 22, 2019, she secured the position of 130th ranking golf player. She is the top 3rd ranking golf player on the career list. To date, she has participated in 21 events and 65 rounds in which she secured 11th and 35th rankings. 
Aditi Ashok Early Life
Her father, Pandit was also a golf player who always supported her. He was always stuck to her in making her skills perfect and never left her in difficult situations. Her initial start to golf sport was when she was 6 years of age. She had started her first round of golf sport. At that age, she became a member of the Karnataka Golf Club.
Aditi Ashok Personal Life
She used to love Table-tennis sport in her childhood. Also, in her childhood years, she used to enjoy doing Skating and Hula hooping. She was having a great interest in art and craft. Her favorite course is the Old Course at St. Andrews. Babe Zaharias who is a golfer and an Olympian too is her favorite athlete. She is an absolutely frank and open-minded person.
The turning point of her career came when she won the Lalla Aicha Tour School and was given the title of the pro-golf player on January 1, 2016. 
Aditi Ashok Professional Life
She made her debut at the age of 9 years for the Karnataka Golf Club. It was a proud moment for her to achieve as she was the youngest golf player to get the prize of the Ladies' British Amateur Tournament in Aicha Tour school. She took participation in Asia Pacific Junior Championship, Southern India Junior, USHA Karnataka Junior, and Faldo Series Asia to represent India. She had played 22 rounds under par. 
Professionally she has won 5 events in her career tour, out of which she had won 3 for Ladies European Tour. 
She has four coaches given below:
Aditi Ashok Former Coach: 
Bamby Randhawa 

Tarun Sardesai
Aditi Ashok Fitness Coach: Nicholas Cabaret
Aditi Ashok Golf Coach: Steven Guiliano  
Aditi Ashok Honors
She was honored by her trophy for her good performance in the 2016 session. She qualified for Rio Olympics as the youngest participant in 2016. Winning a large number of titles at the age of 18 years, she has achieved Hero Women's Indian Open, Golf Club. She also won the same for Country Club in Harayana. In Hero Women's Indian Open she had acquired the cash amounting to $600,000 and secured 213 points from 3-under-par.
Aditi Ashok Achievements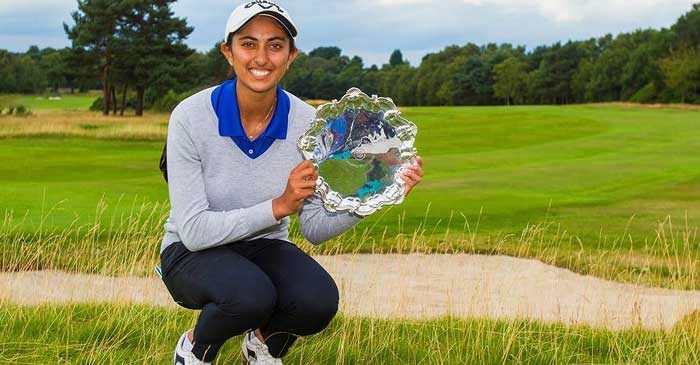 When she was 13 years old, in 2011 she secured the title of the youngest participant in WGAI'S professional tournament. She became the National Amateur Champion, twice in 2011 and 2014. Also, thrice she was entitled to National Junior Champion in the years 2012,2013, and 2014. She was the first Asian Player to obtain the prize of Lawson and St.Rules trophy in the year 2015.
In the same year, she won a silver medal in Ladies Tournament. With this, she was also the first Indian player to secure her victory in 81st Singha Thailand Amateur. In 2016, she was the first youngest female from India who qualified for Rio Olympics. 
Here, below is a table given for the Tour win of Aditi Ashok:
Year
Tour Win

Current Tour 

Ladies Open Tour 

LPGA Tour

2011

Hero Professional Tour Leg 1 and 3

2012

Espirit Santo Trophy 

2013

Asia Pacific Junior Championship 

2014 

Eastern India Ladies Amateur 

Espirit Santo Trophy

2016

Hero India Women's Open, Qatar Ladies Open

LET Rookie of the year 

2017

Fatima Bint Mubarak Ladies Open

ANA Inspiration LPGA Championship

Women's PGA Championship

2018 

Women's British Open

2019

US Women's Open 

Evian Championship
Aditi Ashok Physical Measurements
Aditi Ashok has a slim type body. Her body measurements are 34(B) — 26(H) –– 33(W). She has an oval-shaped face with black eyes and the perfect shape of nose. Her hairs are black in color of medium length. 
Her physical statistics are mentioned below:

Aditi Ashok Height:  
173cm.

1.73m

5 ft 8 inches
Aditi Ashok Weight:
Hander: She is a right-handed pro-player
Aditi Ashok Personal Information
Full Name: Aditi Ashok 
Age: 21 Years
Date of Birth: March 29, 1998
Hometown: Bangalore, Karnataka
Zodiac: Aries
Religion: Hinduism
Aditi Ashok Education
School:

Frank Anthony Public School, ( 2002-2016 ) Banglore

Graduation:

2016.
Aditi Ashok Hobbies
Her favorite hobbies are watching movies, reading books, and listening to Ghazal music. She also loves to collect label pins. Apart from this, she also loves to do gardening and landscaping. 
Aditi Ashok Favorite Food
Aditi Ashok loves to eat fast food and loves to eat Blackberry, Yuzu which is her favorite food. 
Aditi Ashok Net Worth
In LPGA Tour Money Lenders 2019 Aditi had earned a total of $144,479. Her total estimated net worth in 2019 is $100,000- $1 million. 
Aditi Ashok Controversy
On September 10, 2019, Aditi Ashok was outdated from the list of winners to acquire the prize of the Arjuna Award. This happened due to miscommunication between the Board of Directors of Golf Sports. 
Champika Sayal, the Secretary-General of WGAI, said that "We were shocked to know that Aditi Ashok's name was not part of the Arjuna Awards list." 
Speaking for Aditi's loss of not receiving the award at the event of Indian Golf Union, she further stated that, 
"They are not doing anything and at the same time, they are not willing to give the charge. The fact is today a deserving player has not won the Arjuna award and that's a massive loss. Last year after the Olympics it was a given that Aditi's name would be there."
The Director-General Major Bibhuti Bhushan a retired golfer, gave clarification on the issue of not taking the name of Aditi on the list. According to him, she was not nominated on the list due to not filling out the paperwork and signing the form for receiving the award. 
For this clarification, he gave a statement that "If the player does not sign the form we cannot do anything. Last time she signed and her nomination was sent by us."

He further stated that "The mail has been delivered to her this time. Maybe she was disheartened the last time she didn't sign it." 
Hence, she was also nominated with SSP Chawrasia in 2017 by Indian Golf Union  
Aditi Ashok Social Media Profiles
Facebook: https://www.facebook.com/aditigolf/
Twitter: https://twitter.com/aditigolf
Instagram: https://www.instagram.com/aditigolf