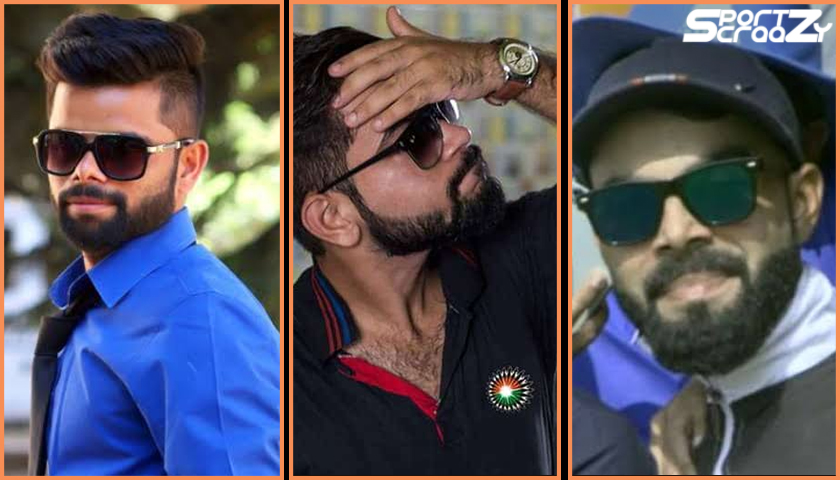 How many lookalikes of Virat Kohli do you know? One, two, Sportzcraazy has come up with top 5 lookalikes of Virat Kohli, who went viral on the internet. And seriously, we have no idea how many more Kohli lookalikes are going to come in the near future. Let's take a look at the top 5 doppelgangers of Kohli:-
Mustafa Sohail
How many of you know that the first doppelganger of Virat Kohli was seen in Karachi and like always the photo went viral on the internet leading to many funny memes and jokes.
The lookalike of Virat Kohli was seen at a Pizza outlet in Shaheed-e-Millat, Karachi. According to the NDTV, the guy name was Mustafa Sohail, the video wet viral and gathered more than 3, 00, 000 views and over 2,000 shares in no time.
The video was first shared by a page named "Just Pakistani Things" and as we say rest is history.
Amit Mishra
Another name in the list is Amit Mishra, the dude is currently pursuing B.Tech from GLA University Mathura and is a huge fan of Kohli. The interesting part is that his friends call him "Amit Virat Kohli".
Prince
You must have surely recognized this man, he is often seen having a good time during the India matches. He is often seen sitting in the crowd and clicking selfies with the fans. The doppelganger name is Prince, he not shares same facial symmetry like Virat, but also flaunts beard and sunglasses similar to Kohli.
Look at him, doesn't he look like real Virat Kohli.
Saurav Gade
Saurav Kade rose to fame when a candidate during panchayat elections introduced Saurav Kade as Virat Kohli to be the chief guest at his rally and since then Gade is enjoying cloud nine fame.
During an interview with Indian express, he said "My friend in college used to say that I look like Kohli. One of my friends had taken a photo which was seen by one of the MLAs in Shirur. He called me and asked me to go to the sarpanch rally as he knew the candidate. After the rally, more hoarding came up, these had the candidate with the real Kohli. I sent the MLA's team pictures but the quality wasn't up to the mark. So the MLA photoshoped Kohli's picture,"
Ahmed Shehzad
Pakistan cricketer Ahmed Shehzad is often compared to Virat Kohli for his looks, but totally unlike Kohli, Shehzad lacks the consistency and temperament to play longer innings and despite playing cricket for such a long time he is yet to establish his place in the national team.
He was once trolled for comparing himself with Virat Kohli. Let's take a look at the old tweets
@adeelsaya Shehzad is shameless comparing himself to the other three! Games he did play speaks volumes of his incompetence

— Abdullah Rana (@abdullah_rana) December 19, 2016
Ahmed Shehzad "If you look at Virat Kohli, Kane Williamson & Joe Root, you will see that unlike me, they all got a lot of support" #Cricket

— Saj Sadiq (@Saj_PakPassion) December 19, 2016