Life seemed to have stopped for him for a while when Yuvraj Singh was diagnosed with a malignant tumor in the year 2011. Lung cancer could have ended his career in cricket and shattered all his dreams. But he decided not to give up. Rather he chose to face the hindrances of life and come out with flying colors. This is what made the turning point in the life of Yuvraj Singh or more popularly known as Yuvi among his fan followers.
The image that flashes upon our mind, when we hear his name is that of a left-handed batsman and a flamboyant cricketer. Not only that, but an image of a spectacular point fielder also goes unparallel with him. But this cricketer's life is full of ups and downs and his story could inspire many.
Yuvraj Singh Childhood Days and Personal Life
Born on 12th December in the year 1981 in a Punjabi family, Yuvraj was the son of a former cricket player and a Punjabi movie star Yograj Singh and Shabnam Singh. Though young Yuvi had immense interest in various sports like tennis, roller skating, and cricket, his family always wanted him to prioritize the cricket first. Though he won the National Under-14 Roller Skating Championship, soon his focus was shifted solely to cricket.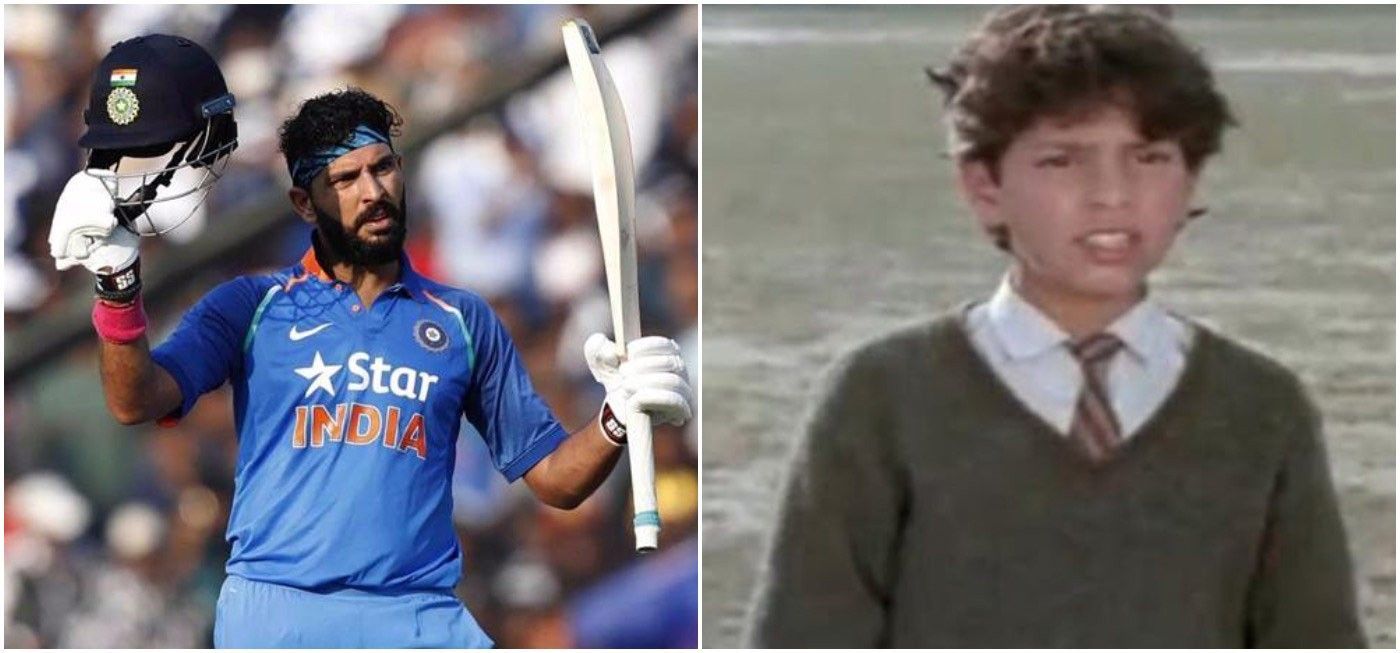 Alongside his cricket coaching, he was doing his schoolings from DAV Public School in Chandigarh. He pursued commerce after his secondary exams and then he continued his studies in his under graduation in the same stream. He did his bachelor's from DAV college as well, which is under Punjab University. Thus, both his childhood and teens were spent in the city of Chandigarh until he left for Mumbai after pursuing a full-fledged career in cricket.
After his parents got separated, he used to stay with his mother, and she brought him up as a single mother.
Dawn of his Career in Cricket
He stepped his first step into the competitive world of cricket when at the age of just 13 years he was selected for the Punjab Under-16s cricket tournament in 1995-96. He played against Jammu and Kashmir in this match. This was followed by his selection in Punjab Under-19s, where he scored 137 against Himachal Pradesh Under-19s.
His consecutive success in these tournaments led to his selection for Ranji Trophy in late 1997. But due to certain circumstances, it was dismissed. But that could not dominate the spirit of the young Yuvi. He was successful in proving his excellence in the Under-19 Cooch Behar Trophy Final of 1999 against Bihar at Jamshedpur. From then he had to never look back.
His performances caught the eyeball of the nation in the 2000 Under-19 Cricket World Cup when Mohammed Kaif was the captain of the team. Due to his all-rounder performance, he bagged the Player of the tournament award. This paved his path for his selection in the National Cricket Academy in the year 2000.
His international debut was against Kenya in the pre-quarter-final of the 2000 ICC KnockOut Trophy. The quarterfinal match was against Australia, where he got the man of the match award. In this match, India won by 20 runs and this helped him to come to the limelight of the cricket. But as every life has ups and downs, the same was with Yuvraj. In the next tri-series tournament among India, Sri Lanka, and Zimbabwe, Singh failed to perform well and grab the attention of his critics.  He was even dropped out of the team after he scored just 15.5 in the ODI series in late 2000.
Though he got an opportunity, to showcase his excellence during the 2001 Coca-ColaCup in Sri Lanka, his performance was somewhat satisfactory but not outstanding. Thus, for the home series against England in January 2002, Dinesh Mongia and Hemang Badani were given preferences over Yuvraj and they got selected. Then he was left with no other option rather than to play domestic cricket at the beginning of 2002. Then, gradually he managed to be a part of final two ODIs played against Zimbabwe, where he won the Man of the match award.
Yuvraj Singh – ICC Champions Trophy And ODI Series
His first ICC champions trophy was in 2002. He played against Sri Lanka in both the matches of the trophy. But it is said that he was back to his terrific form in the sixth ODI that took place in Jaipur. He scored half century that actually helped India to win the match by three wickets.
Despite all the hindrances and ups-downs in his career, he managed to be a part of the 15-man Indian squad in 2003 ICC Cricket World Cup that took place in South Africa. He marked his maiden ODI century in the match against Bangladesh that took place in Dhaka in the month of April in 2003. After this, the Yorkshire Country club approached him and he made the record of second Indian cricketer after Sachin Tendulkar, who represented the country.
Though he didn't perform remarkably well in the coming days, he continued to be an active part of the Indian National Cricket team. But his performance was quite disappointing to the cricket lovers in the ODI series that took place against Pakistan in April 2005.
World Cup, T20 And IPL
2011 ICC World cup was a milestone in his career, where, where he scored 362 runs including one century and four fifties, took 15 wickets, won four Man-of-the-Match awards and was also awarded the Player of the Tournament. In the meantime, he became the first all-rounder who could score 300-plus runs and take 15 wickets in a single World Cup.
Yuvraj was appointed as the vice-captain of the Indian squad at the inaugural ICC World Twenty20 in South Africa. He even made the record of fastest fifty ever in Twenty20 cricket, off just 12 balls. This was also the fastest fifty record in any form of international cricket. Not only that, it was for the fourth time that consecutive six sixes were hit in one over in senior cricket. But it happened for the first time in the history of any T20 cricket. In the semi-final, he made the record of longest six of the tournaments and bagged the award of the Man of the match.
After the resignation of Rahul Dravid from the post of captain of the Indian cricket team in September 2011, Mahendra Singh Dhoni and Yuvraj Singh were appointed as the captain and vice-captain of the Indian cricket team respectively. In the ODI series against Pakistan in 2007, he had the record of four half-centuries in five matches and was declared as the player of the series. But he was fined for his misconduct during the final match in Jaipur.
Yuvraj was the captain of the team Kings XI Punjab in the first two seasons of Indian Premier League. But in the third season, Kumar Sangakkara was appointed as the captain. He made his hat-trick in IPL against Royal Challengers Bangalore on 1st May, in the year 2009 on the ground of Kingsmead in Durban.
In 2011, a new team Pune Warriors was introduced, and Singh was bought by the team and was appointed as the captain. But after this, his battle against cancer forced him to discontinue his passion for cricket. But in 2014, he was a part of Royal Challengers Bangalore at the cost of 14 crores. Although, in 2015, Delhi Daredevils bought him. And in 2016, he was a part of Sunrisers Hyderabad.
Yuvraj Singh- Battle Against Cancer
During his various tournaments throughout 2011, he was facing respiratory difficulties and he was forced to withdraw himself from the ODI series in the West Indies due to his health issues. Symptoms like breathing trouble, blood vomit and nausea were prevalent during the 2011 World Cup, where he achieved the fame of the player of the tournament.
Once the World Cup was over, he underwent various tests and diagnosis. Finally, from a scan of the chest cavity revealed the presence of a tumor in his lungs. But he preferred to ignore it for the time being as he knew it well that malignancy would put an end to his career in cricket. But from the reports of various tests, it was confirmed in January that he was having a malignant tumor. It was found out to be a germ cell cancer clinically called mediastinal seminoma. The position of the tumor was between his heart and his left lung.
As per the advice of his doctor, he left for the US on 26th January for chemotherapy and further treatment. His sessions on chemotherapy began in February. Alongside this chemotherapy, he was undergoing various Ayurvedic treatments as well and planned to go for rehabilitation in the month of May.
Yuvraj's doctor advised him to go for chemotherapy sessions and thus, on 26 January he went to the U.S for chemotherapy. His chemotherapy started in February and ended in March. Along with this chemotherapy treatment, he was also undergoing Ayurveda treatment and even went for rehabilitation in May, the same year.
In many of his interviews, he has mentioned that the story of Lance Armstrong was the source of his inspiration. Lance Armstrong was also diagnosed with similar tumor back in 1996, yet he excelled in his career after battling cancer. Yuvraj was under the treatment of the same doctor, who handled the case of Armstrong. Singh even mentioned that he used to read the autobiography of Armstrong to keep himself positive and motivated.
Yuvraj Singh-Coming Back After Cancer
By the end of March 2012, he was done with the final round of chemotherapy and thus he was discharged from the hospital in the US. Then, in April 2012, he decided to come back to India. He was also selected for the 15-member Indian squad for the 2012 ICC World twenty 20 that happened in Sri Lanka in the month of September in the same year.
Thereafter, he made his international comeback in a Twenty20 match against New Zealand, that happened in Chennai and he scored 34 off 26 balls that included one four and two sixes. He gradually proved himself to be the highest wicket taker for the tournament yet his luck as the batsman was not much of a favorable one.
He was also a part of the Test series against England, but he could play only three test matches as for the fourth one he was dropped. But even this incident could not stop him from pursuing his aims. His selection for the Indo-Pakistan series in the second Twenty 20 provided another window of opportunity to him.
Yuvraj made a comeback to India's limited-overs squad for the Twenty20 and first three ODIs of the home series against Australia.
 Controversies And Marriage
There have been multiple controversies about his relationship. His first relationship was with the 'Mohabbatein' fame actress and the cousin of Arjun Rampal, Kim Sharma. It was the longest affair Yuvi ever had before his marriage. But it is rumored that his mother didn't accept their relationship and finally it had to end after four long years. But after that, he again dated another 'Mohabbatein' fame actress Preeti Jhangiani. It was rumored to be a short-lived relationship, though both of them have denied being in a relationship with each other.
While he was a part of Kings XI Punjab, he was rumored to be in a relationship with the co-owner of the team, Preity Zinta. Though, both of them have always tagged their bonding as a good friendship. Priety had even displayed strong resentment against such rumors on the various social media platform. This was just the beginning where sports tried to make a bond. It was enhanced when Yuvraj fell for the Bollywood Diva Deepika Padukone, the elder daughter of Prakash Padukone.
Bollywood beauty also hosted a grand party on the occasion of his birthday. But sooner, Ranbir Kapoor became the reason behind their breakup. After Deepika and Yuvi parted, the granddaughter of veteran actress Suchitra Sen and the daughter of Munmun Sen, Riya Sen entered his life. Though, their relationship was also very short-lived. Apart from these, it was rumored that Aanchal Kumar, Anushka Dandekar, Neha Dhupia, and Minissha Lamba were also on a short-lived relationship with this flamboyant cricketer before he tied the nuptial knot finally with model-turned-actress Hazel Keech on November 30, 2016.
Also check :
Please follow and like us: