Introduction
Rahul Chaudhari In a game of Kabaddi, there is a constant battle for supremacy among the raiders and the defenders. Both are extremely essential to their team; while the rider gets the valuable raid points, defenders get tackle points and add depth to the team. For any team to be successful in kabaddi, it is very essential to have a healthy balance between defense and attack.
The defender is as important as the attacker, but both carry out totally different responsibilities on the mat. However, for a defender to shed his playing style and turn into an attacker is a very rare feat. It is extremely hard to transform from a tackling machine to a raider, and not everyone can flourish with this change in role.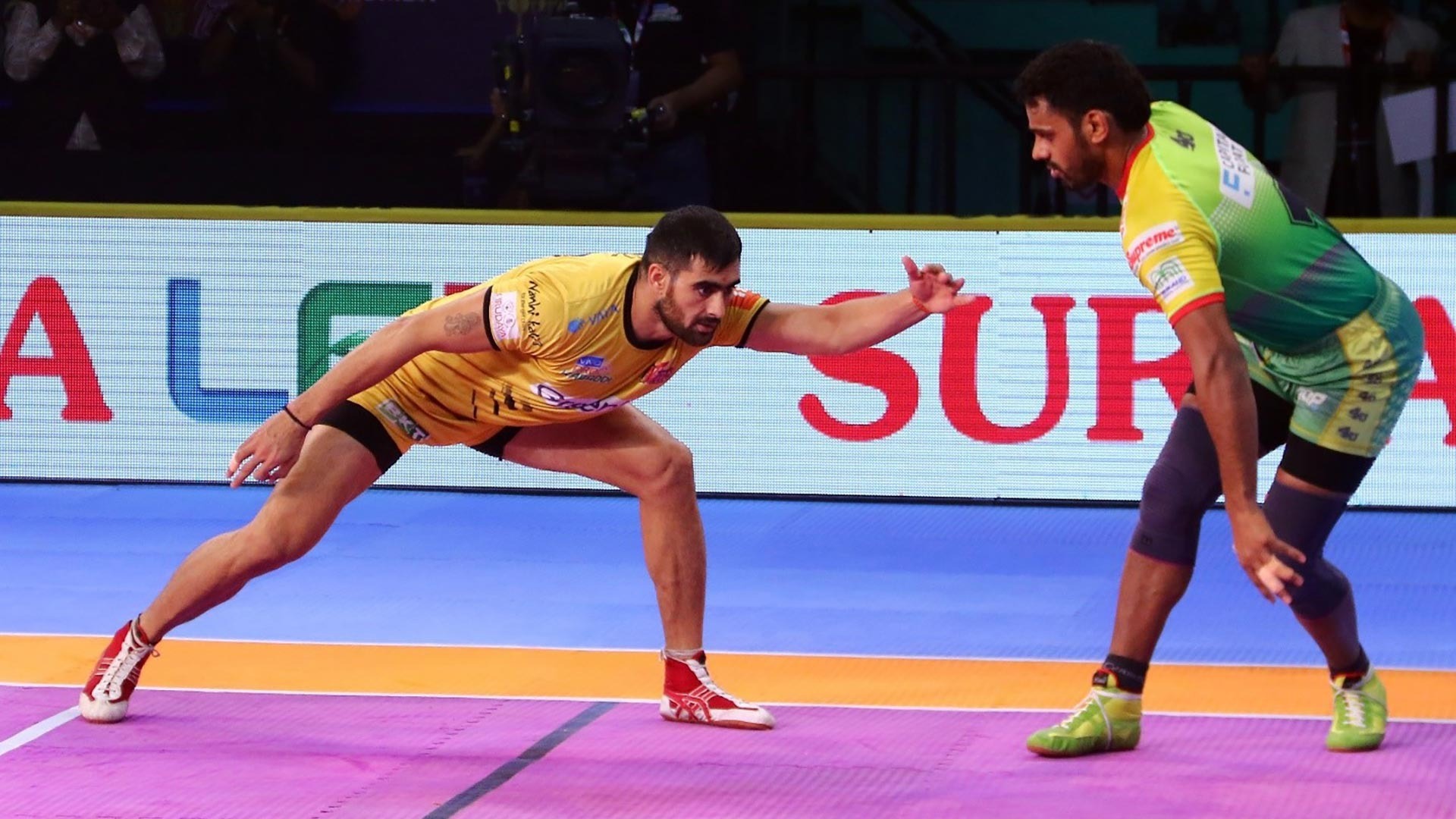 Now imagine a defender who changed his playing style to become an attacker and went on to become one of the greatest raiders in the country. Sounds like a fairy tale, right? Sometimes, life can be astonishing, sometimes the truth can be stranger than fiction and that is exactly what has happened in the Indian Kabaddi circuit. The name Rahul Chaudhari is synonymous with raids in the game of Kabaddi, which is why he is also known as the "Raid Machine". But Chaudhari had actually started playing the game as a defender, before switching on to an attacking role. This is what makes his achievement an even great feat.
Rahul's signature move is the running hand touch, which requires a high degree of agility and speed. The Uttar Pradesh boy suddenly increases his speed in the middle of a raid, catching the entire opposition by a surprise and stretches himself to quickly touch an opposition player. As soon as his mission is accomplished, he rushes back to his court, while the hapless team still comes to terms of the change of events. Rahul's running hand touch is a stuff of legends and it is highly effective on the turf.
Early Life of Rahul Chaudhari
The Bijnor district in Uttar Pradesh is well known for its references in Mahabharat, and it was in here that Rahul Chaudhari was born, on 16th July 1993. His childhood was fairly tough because Rahul suffered from obesity. This hindered his development and also affected his life. Things got so out of hand that doctors advised an immediate change of diet because Rahul's obesity was taking a life-threatening turn.
He was put under a strict diet and his consumption of fat was drastically reduced in a bid to get him back to normal ways. As such, Rahul grew up with a strict routine that laid emphasis on his fitness. It is not a wonder then that he would grow up to become one of the fittest players in the country.
Once his obesity was attended to, Rahul returned to a normal life. He grew up to be a healthy child and very soon was introduced to Kabaddi because his elder brother played as a raider for his village. Rahul's obsession with the sport increased by the day and very soon all he could think about was Kabaddi. He plays Kabaddi at school, after school and every time he had a chance. He would dream of making it big as a Kabaddi player one day. His parents were concerned that the game would hamper his studies so they would ask him to focus on his studies instead.
For a small village boy, the dreams were too big to be fulfilled in the region. For his parents, there was concern about the lackluster future in sports. They wanted their boy to study hard and have a stable livelihood in the future. After all, that was how the rest of the country went forward.
For Rahul though, Kabaddi was more than just a game. It had become a passion and when you do something you love, you are bound to succeed. Despite the glare of society, Rahul continued to dream and life soon surrendered to his desires.
The First Break of Rahul Chaudhari
They say every champion has a life-changing opportunity in his or her life. Standing at the crossroads, every winner has to decide on the way forward. The road ahead is not devoid of sacrifices and hardship, but it is the initial decision that is the hardest part of the route to success. Rahul Chaudhari's big break arrived in 2007 when he was just 14 years old.
The Sports Authority of India conducts trials around India that seeks to identify raw gems from the deepest corners of the country. As fate would have it, one such trial was held for Kabaddi in Rahul's village. Since the young boy was strictly forbidden to pursue his dreams of Kabaddi, Rahul secretly attended the trial, without informing his family.
His desire, hunger, and love for the game were easily noticed by the scouts who had come to discover such talents in the country. Rahul had immense potential and it was clear that with the correct guidance, he could become one of the best in the business. He was selected for a training camp in Gandhinagar, Gujarat and young Rahul Chaudhari suddenly found himself with a big decision to make.
His family did not want him to leave his studies midway and attend a training camp so far away from home. But Rahul was adamant, he could see a golden opportunity ahead of him. He wanted to immerse himself in Kabaddi and such a situation did not arrive every day.
Rahul decided to attend the training camp and it was a decision that changed his life forever.
Rahul Chaudhari | The Call from the Indian Army
Once he had attended the training camp, Rahul realized that he had a lot to learn about the game. He put his head down and continued to work hard. His sweat turned to gold in a while as Rahul caught the eye of coaches around the country. One of them was the highly respected Kabaddi Coach Uday Kumar, who would later shape Rahul's career. Uday Kumar noticed that Rahul was extremely talented and realized that the young boy was destined for great things.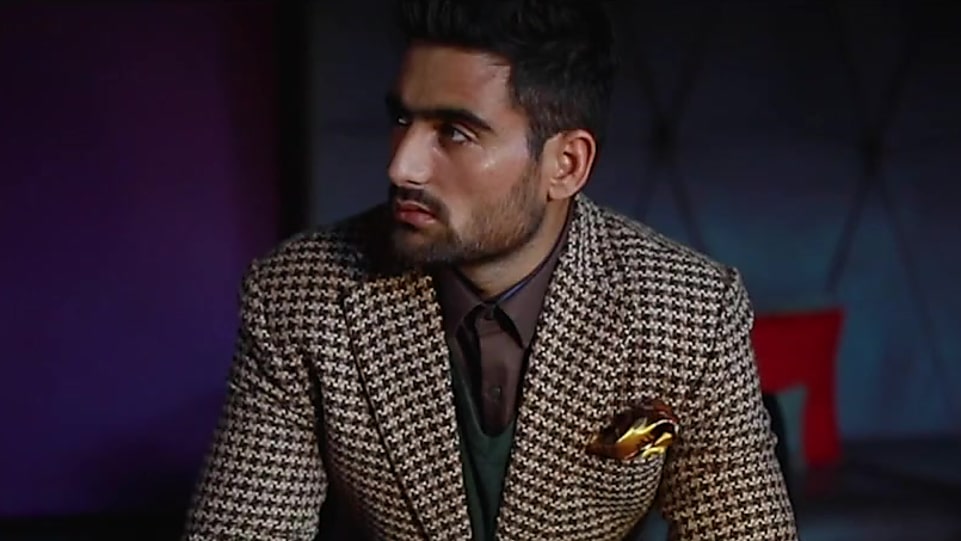 Besides the coaches, Rahul's talent also caught the eye of the Indian Army. Rahul was offered a chance to play for the Indian Army, as a part of their Kabaddi Team. It was a chance that deeply moved the young boy; he was highly honored to have been selected by the Indian Army. However, Rahul felt that he still had a lot to learn about the game and wanted to further develop his playing style. He felt the time was not right for him to be associated with the Indian Army and as such, Rahul Chaudhari politely declined the offer, preferring instead to concentrate on his own gameplay. It was another decision that would have a deep impact on his career.
Rahul Chaudhari would later be offered a chance to play for Air India. After missing out on a chance to play for the Army and serve the nation, Rahul would not let a second chance slip. He accepted the offer to play for Air India.
Rahul Chaudhari in Pro Kabaddi League
Pro Kabaddi League Season 1
The advent of the Pro Kabaddi League in 2014 changed the status of Kabaddi in India. The game was immensely popular in the country, however, the new league added a vital commercial aspect to the sport and provided a platform, a future, for the millions of aspiring Kabaddi players in the country.
8 teams competed amongst each other in the inaugural league. One of them was Telegu Titans, who had appointed Uday Kumar as their coach. When the chance arrived to sign Rahul Chaudhari, Uday Kumar was adamant that he wanted his man. That was how Rahul started his Pro Kabaddi League journey, by joining the Telegu Titans.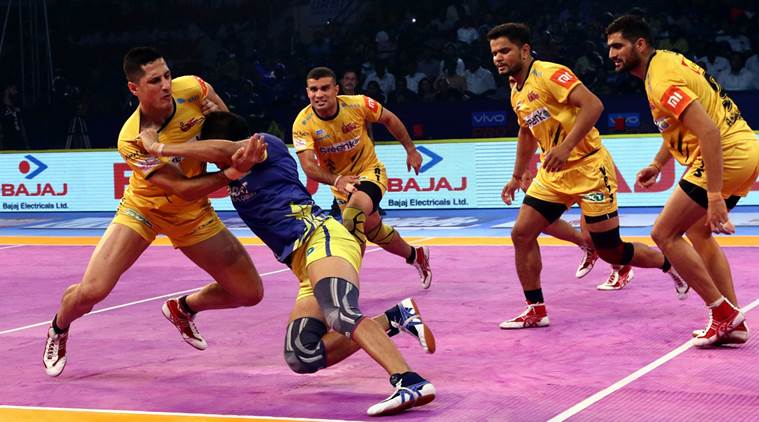 In the first season itself, Rahul made a name for himself, thanks to his brilliance on the turf. Rahul was a pragmatic raider who almost always picked up points from his raids. He was so efficient for his team that he finished the season with 151 points from 14 games, second only to U Mumbai Skipper and Indian Kabaddi Icon Anup Kumar.
The season was a huge success for the UP boy, who became a household name and had his very own fan following. Rahul had 2 super raids and 8 super 10s as he finished just 4 points behind Anup Kumar. On the upside, Rahul had also picked up 10 tackle points and also had 1 super tackle to his name. He finished the season with 161 points in total and to this day, it remains his third best season in the Pro Kabaddi League.
2014 was also memorable for Rahul as he was a part of the Indian Kabaddi Team that won gold in the Asian Beach Games.
Pro Kabaddi League Seasons 2 and 3
In the next two seasons, Rahul Chaudhari was stellar for his team but failed to match the heights of his debut season. Telegu Titans finished 3rd and 5th respectively. In the second season, Rahul registered 98 raid points from 14 games. He had 6 super raids and 5 super 10s. He also collected 9 tackle points and ended the season with 107 total points.
In the third season, Rahul's performance hit the all-time low of his Pro Kabaddi League career. He managed just 87 raid points from 13 games and had just 1 super raid and 4 super 10s. He picked up 12 tackle points and 2 super tackles to end with a final points tally of 99.
After a fantastic debut season, Rahul Chaudhari saw a slip in a form that led to many questioning his caliber. There were also talks of him being a one season wonder. As such, it was time for Rahul to reply. The young man from UP trained harder and had only one goal in his mind – redemption. And he finally found his way back in season 4.
Pro Kabaddi League Season 4 and turn around
At the start of the 4th season of the league, all eyes were on Rahul Chaudhari. Would he slip further into oblivion or could the fighter from UP win this battle again? Rahul featured heavily in the build-up to the season and once the season started, he was always on the news. Because the champion had taken a stand, after all, winners do not give up easily and Rahul was born to win on the turf.
Rahul Chaudhari blew away the competition in season 4 and even though he failed to take Telegu Titans all the way in the tournament, he had the personal satisfaction that he fully deserved. Rahul finished the season with 146 raid points, 15 points ahead of his competitor Pradeep Narwal, to become the Best Raider of the season. He had 6 super raids and 7 super 10s. Rahul also had 4 tackle points and 1 super tackle and ended the season with 150 total points, which also made him the Best Allrounder of the tournament.
Season 4 was also special for Rahul, as he made history in the Pro Kabaddi League, by becoming the first player to cross 400 raid points. Rahul continued his successful run with the Indian National Kabaddi team, by helping India win Gold in both the 2016 South Asian Games and the 2016 Kabaddi World Cup.
Seasons 5 and 6 and the end of an era
At the start of the 5th season of the Pro Kabaddi League, Rahul Chaudhari was retained by Telegu Titans and he enjoyed his best season in the tournament. Telegu Titans faltered once again, but Rahul was massive, as he finished with 184 raid points and 193 total points. Only an insane performance from Pradeep Narwal denied him another Best Raider Award.
Rahul Chaudhari continued his good form in the 6th season as well, ending with 159 raid points and 166 total points, but once again he could not win the Best Raider Award. Telegu Titans finished the tournament in 6th place. It would turn out to be Rahul's final act with the franchise as his long association with Telegu Titans came to an end during this year's player auctions. Rahul was picked up by Tamil Thalaivas and will be seen in their colors in the 7th season this year.
Despite his lack of trophies in the Pro Kabaddi League, Rahul continued his good form with the National Team. He was a part of the team that won Gold in the Asian Kabaddi Championship in 2017 and the 2018 Dubai Kabaddi Masters. Last year, he also won the Bronze with India in the 2018 Asian Games.
Records of Rahul Chaudhari & looking ahead
Rahul Chaudhari is at the top of the all-time points earned in the tournament. Rahul has earned 876 points from 100 matches. He has a brilliant not out percentage of 81.03%. Rahul has a raid strike rate of 47.99% and has 24 super raids, 36 super 10s, and 825 total raid points, the second most in the history of the tournament. He also has the most successful raids in the tournament, having picked up 679 raid points.
Notably, Rahul Chaudhari has also captained Uttar Pradesh to the 2015 Senior National Kabaddi Championship trophy, the first time the state has won the award.
As Rahul Chaudhari prepares for a new season with a new team, the whole country will be holding its breath, knowing very well that Tamil Thalaivas have conjured a coup of sorts by getting the Raid Machine in their team. Rahul himself will be desperate for success in his new team and very few people would bet against him right now.